Last Updated on September 9, 2023 by Alexis Porter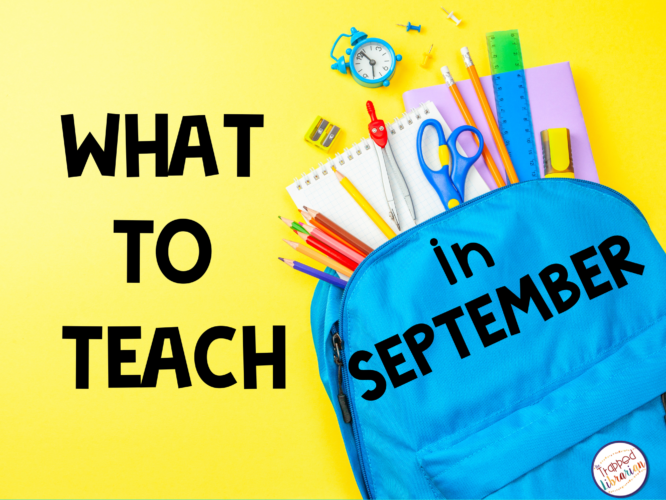 The beginning of a new school year is always full of excitement! It's important to start with engaging activities and lessons that will set the stage for a year full of active learning for all students. I choose September library lessons that are fun, foundational, and differentiated/scaffolded. I teach all 4 of these topics with all of my grade levels K-5, so that the concepts build upon prior learning each year.
Book Tasting Event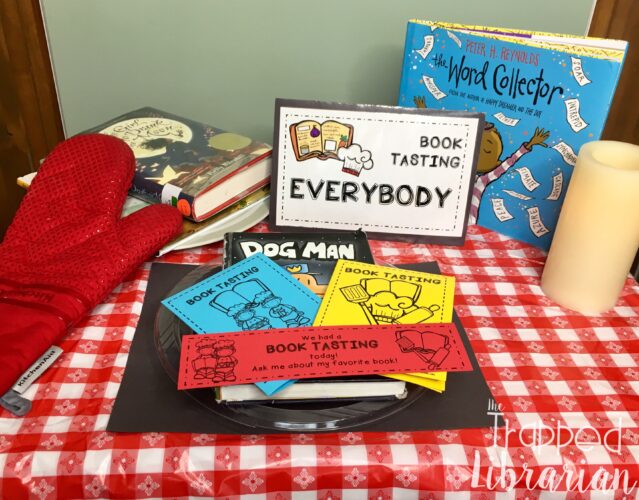 I absolutely love to start the year off with a Book Tasting Event! It builds excitement around our new books and the students love it! It's easy to transform your library into an Italian bistro with a few props from home. Then, set the tables with books (you can use colorful construction paper for placemats), play some dinner music, and give students "menu" bookmarks to note books they'd like to read. Now your library will be buzzing with excitement – what a great way to build a culture of reading! To get more ideas, check out this blog post: 5 Tips for a Fun Book Tasting.
Library Expectations

Be sure to include library expectations in your September library lessons. Of course it's good educational practice to ensure that guidelines for expected behavior are well understood and well known. This means not only going over expectations at the beginning of the year, but having them visible at all times. Since my library was in the middle of 10 classrooms, we really needed guidelines for voice levels. We focussed on respect – one of my school's universal principles – respect books, materials, and people. Giving students an opportunity to discuss, role play, and give examples can really set the year off on the right track. (I've included my library expectations in this Library Organization Kit.)
Technology Use Agreement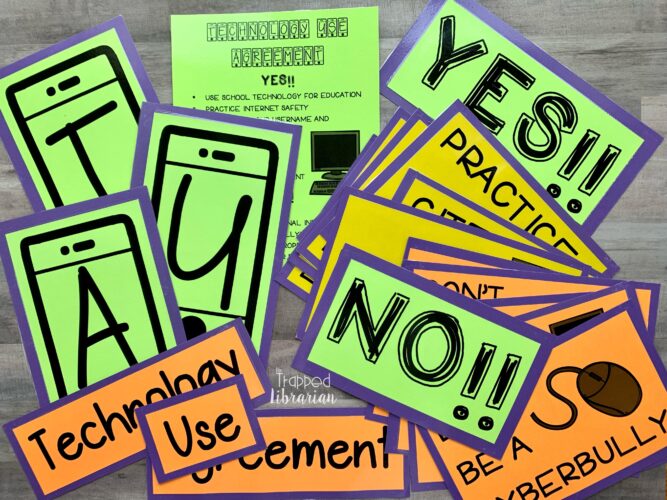 Even though your Technology Use Agreement may be included in the student handbook for families to discuss at home, it is essential to begin the year with a review of the main guidelines. If your TUA is small print and full of long explanations, I recommend you condense it into "kid friendly" language. Narrow these into "Dos" and "Don'ts" and give your older students an opportunity to discuss/give examples in small groups. I put my kid friendly guidelines on cards for each group and had them sort them into "YES" and "NO" piles, while encouraging discussion. With the younger grades, I chose the most basic concepts to sort, using large poster sized guidelines. I also created a bright bulletin board to reinforce these important digital citizenship concepts. (See how I printed the small group cards in this article: Get More Mileage Out of Your Poster Sets.)
Library Catalog Practice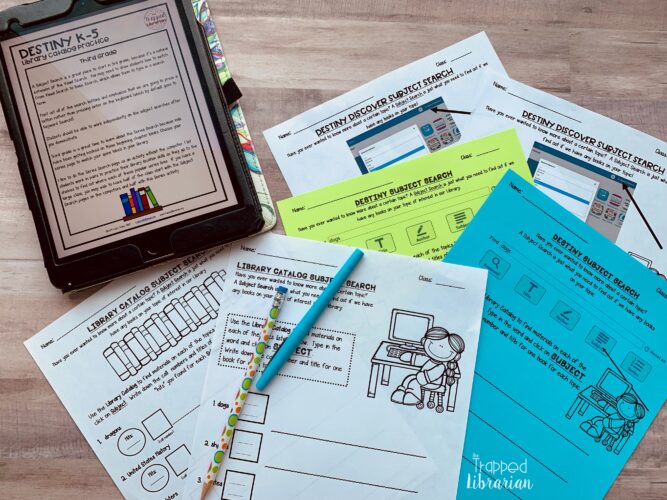 It is no secret that I believe library catalog search and location skills set all of our students up for future independence in finding information and materials for personal use as well as for school. Start in Kindergarten by demonstrating how you found the book you are using for story time. This sets the stage for independence from the beginning. Like so many important information skills concepts, it's crucial to scaffold learning so skills from previous years are reinforced. My September library lessons include how to log in, look at their library information, and place holds beginning in 2nd grade. We learn about different types of searches (subject, keyword, title, author, series), adding on each year.
For more information:
September Library Lessons Complete!
By choosing engaging, foundational, and differentiated activities, your September library lessons are sure to be a hit in your elementary school library. If you want to save time (and money!), grab this September Library Bundle!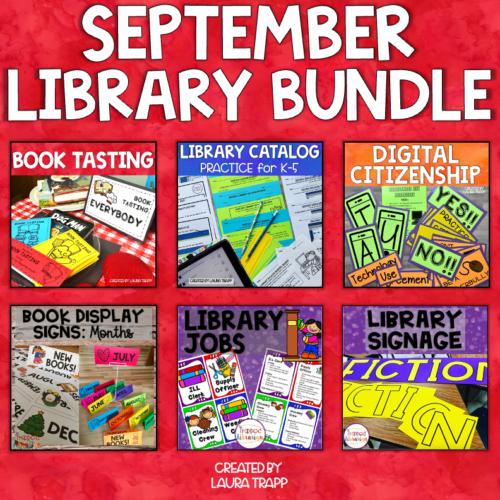 I'm wishing you and your students a fantastic year!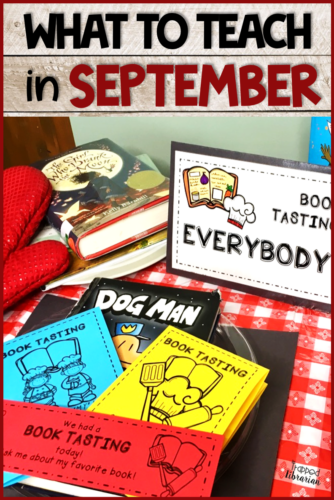 Be the light!