Last Updated on August 10, 2020 by Laura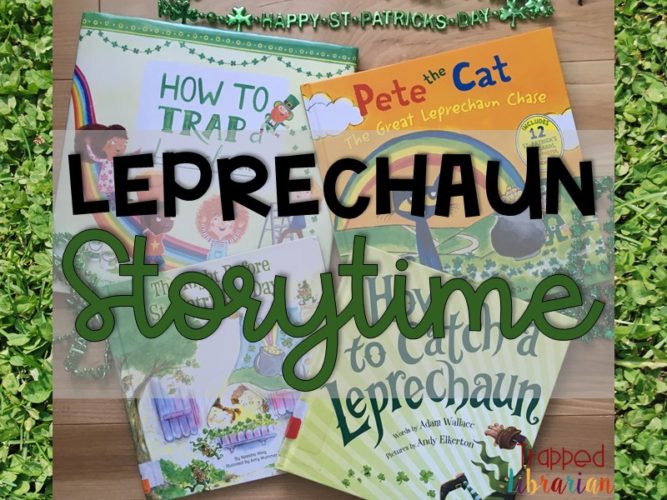 March is definitely the time for a fun Leprechaun Storytime in your elementary library or classroom! I'd like to share some fun picture books and lively songs to help you plan your own St. Patrick's Day storytime session for your kindergarten and first grade students.
This post contains Amazon affiliate links for your convenience. If you click on a link and make a purchase, I may receive a small stipend at no cost to you.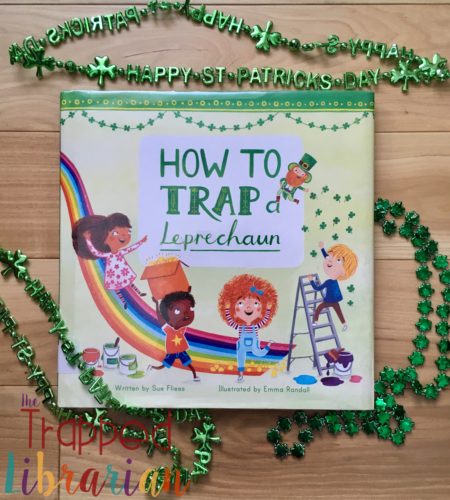 Beautiful, colorful illustrations accentuate a fun rhyming text with tips on how to trap the clever Irish elves. This book shows a group of children getting creative as they plan their traps, and it will encourage your students to try their hands at catching a leprechaun too! The author's note in the back contains background information on leprechaun folklore as well as tips for a creative leprechaun trap activity.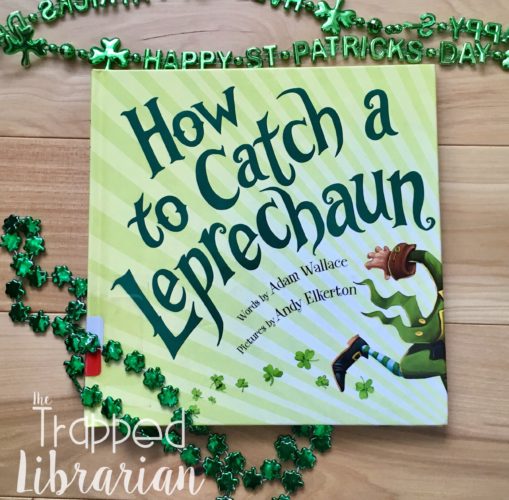 This is one of the many books in Wallace and Elkerton's "How to Catch" series. My students are drawn to these fun stories and the idea that they just might be able to catch a magical creature! Told from the point of view of the leprechaun, this story gives us a peek into many failed attempts at catching the illusive Irish character. The ending offers the possibility that the reader might just be the brilliant child who actually figures out how to catch the leprechaun after all.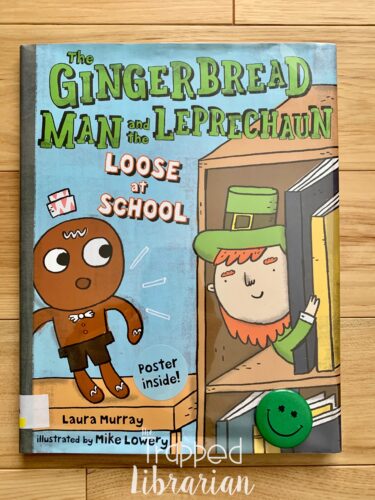 Fans of Laura Murray's Gingerbread Man books will not be disappointed with this newest episode! Two well-known clever characters are at odds as the Gingerbread Man tries to catch the Leprechaun to stop him from making messes in the school. Murray's word choice is superb, the rhyme and cadence so fun – this is a true delight to read aloud! Mike Lowery's clever illustrations in graphic novel format keep the readers' and listeners' eyes moving along the story in anticipation. This is an excellent read aloud choice, especially if you've got a leprechaun making mischief in your school!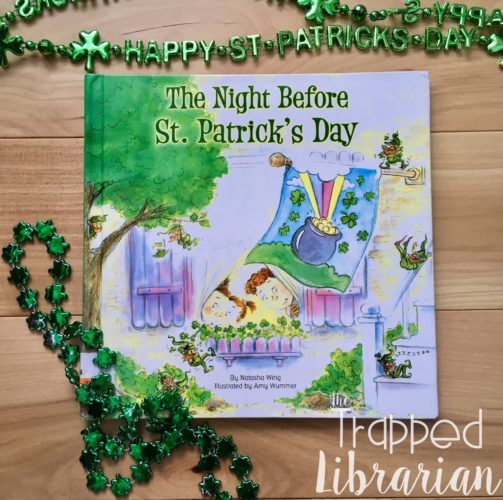 Following the familiar rhythm and rhyme of The Night Before Christmas, this story shows a family getting ready to celebrate St. Patrick's Day. The children are plotting to trap a leprechaun, and they do, but he outsmarts them in the end. The fun illustrations add detail to the text and draw the reader in to examine the leprechaun traps.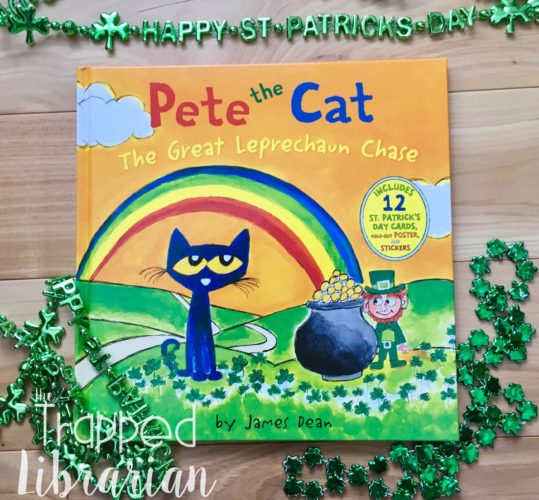 Always the entrepreneur, Pete opens a leprechaun trapping business! He thinks it will be easy, but soon finds out the clever Clover the leprechaun is pretty tricky! When he finally does catch him, he ends up learning a lesson about how to be a good friend. Clever limericks will help you encourage group participation during your storytime! The book includes a poster and 12 cute little St. Patrick's Day cards for a child to fill out for family and friends.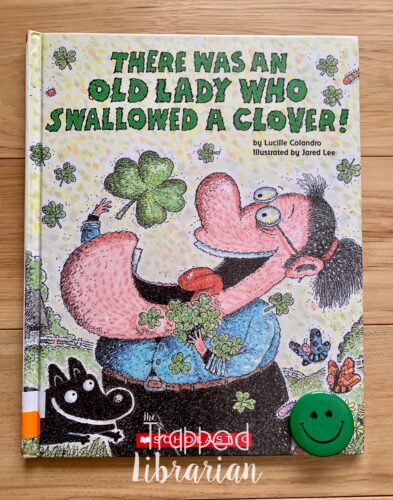 This fun series is very popular in my school library! In this St. Patrick's Day themes volume, the old lady gulps down several seasonal items, each increasingly more unbelievable than the last! The culmination arrives as she is dancing with a leprechaun. The old lady laughs so hard, she spits out a rainbow of all the items she swallowed, allowing the leprechaun to grab the clover. This is a great story for a sing along storytime. Even if you don't sing, it, the repetitive rhythm and rhyme make for a fun class participation read aloud. Jared Lee's illustrations give the reader/listener a lot to notice as they view the story from several angles. You and your students will giggle together – don't miss this one!
Ten Little Leprechauns song by Maple Leaf Learning
This song will help reinforce counting while encouraging your students to move during your Leprechaun Storytime! I used numbered leprechaun cards with class volunteers to get more group participation. We had so much fun!
G-R-E-E-N St. Patrick's Day Song by The Kiboomers
Song to the tune of B-I-N-G-O, this song would be a great intro into lessons on colors, perfect for this time of year since the pot of gold is at the end of the rainbow!
Dance Dance Leprechaun Dance by The Kiboomers
This fun song (sung to a familiar tune) will get your young learners up and moving as they dance, bow, clap, and jump along with the leprechauns!
Have a Scavenger Hunt!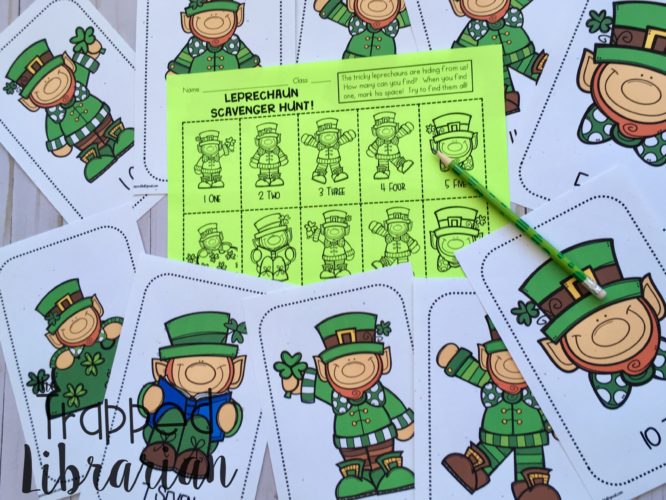 I hid a smaller set of my numbered leprechaun cards around the library (Kind of in plain view!) and gave students a clipboard, pencil, and Leprechaun Scavenger Hunt recording page. They were so excited to look all around the library and help one another to find all ten leprechauns!

Watch my video to learn more!
Let me help you!
If you want to try your own Leprechaun Storytime, but you're short on preparation time, let me help! I've got a resource that has the 10 Little Leprechaun cards, book review/leprechaun trap activity pages, and everything you need for a fun leprechaun scavenger hunt! Take a look at the preview here: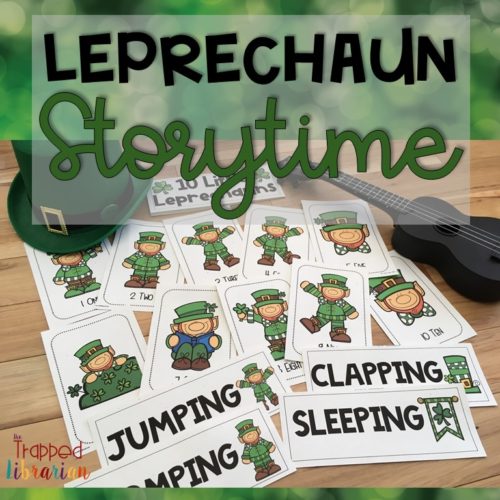 Share your ideas with us!
Do you have some favorite picture books or songs to use with your kindergarten and first grade students for St. Patrick's Day? Please share them with us so we can add them to our Leprechaun Storytime fun!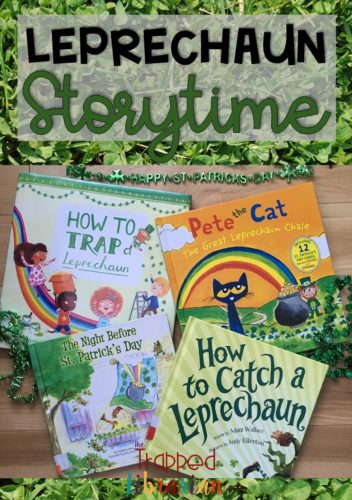 Be the Light!