Last Updated on September 25, 2022 by Laura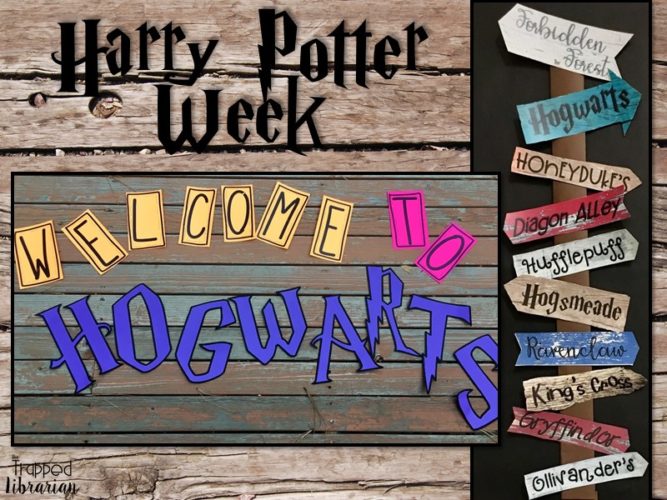 A couple of weeks before Halloween, our school library was transformed into Hogwarts as our whole school celebrated Harry Potter Week! Over the past couple of years, I've teamed up with the music and physical education teachers in my building to integrate our subject areas around a theme for a week or so. Our Harry Potter Week has been our most exciting so far!
This post contains Amazon affiliate links for your convenience. If you click on a link and make a purchase, I may receive a small stipend at no cost to you.
Collaborating With Other Specialists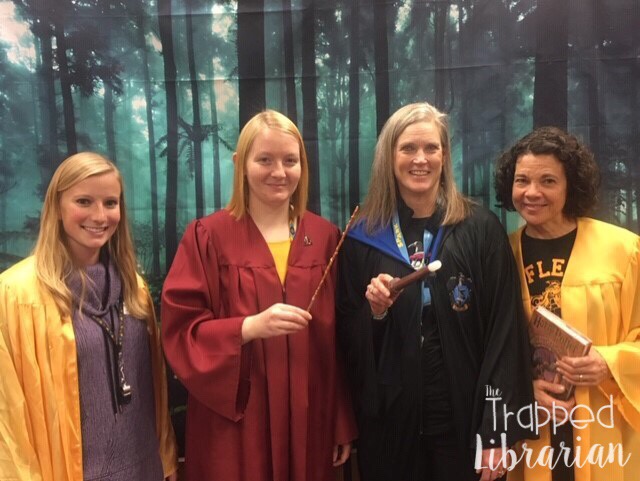 I'm very fortunate to work with creative, enthusiastic, open minded colleagues! In the past we have worked together to facilitate integrated units on Irish Culture, Native American Culture, and the Winter Olympics. You can read an overview of our experiences in the article I wrote for the Library Learners blog: Collaborate With Your Specials Team.
For Harry Potter Week, students were assigned houses, learned to play Quidditch, and had "broomstick races" in physical education classes. In music classes, students chanted rhythms, learned to waltz, and even learned an original song composed by our talented music teacher!
Build Excitement!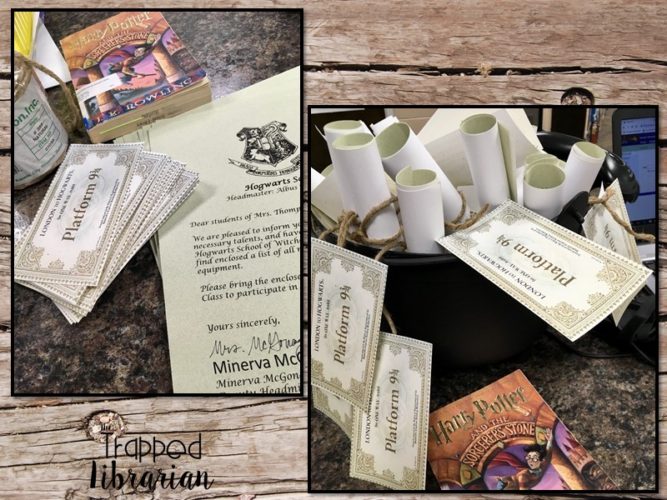 On the Friday before our Harry Potter Week, I hand delivered these Platform 9 3/4 tickets and a Hogwarts letter to each classroom. I found a Harry Potter Freebie Pack from Martina Cahill on Teachers Pay Teachers that contains an editable letter, the tickets, and more! I wore my Harry Potter glasses with an old black cape over my Hufflepuff shirt, and even carried my wand in my back pocket as I made my deliveries. All of this created quite a stir among the students and teachers. One teacher emailed to tell me she's waited all her life for her Hogwart's letter!!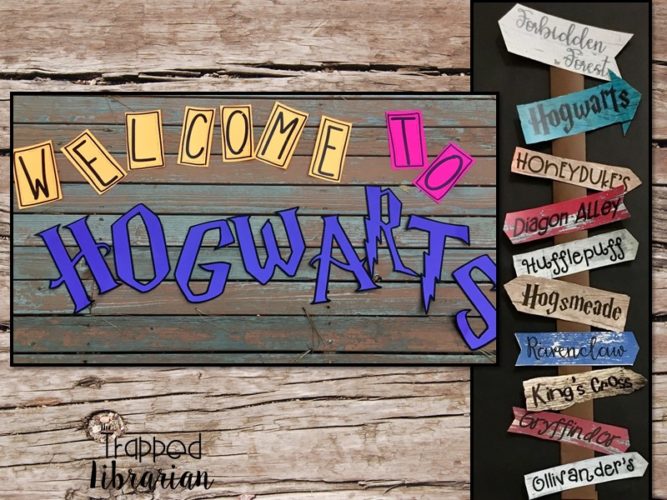 I created a "Welcome to Hogwarts" bulletin board to great the students as they walked into the library. I decorated the doors with directional signs of places from the books. I came in on the weekend to decorate so students and staff members would be surprised on Monday morning.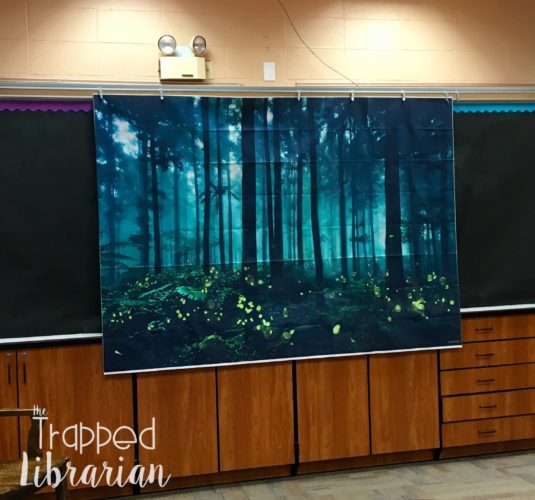 This Enchanted Forest photo backdrop was perfect to use for Harry Potter Week as well as my Enchanted Forest Book Fair! It was great for storytelling with our youngest students and the kids had fun taking photos in front of it during the book fair.

Library Transformation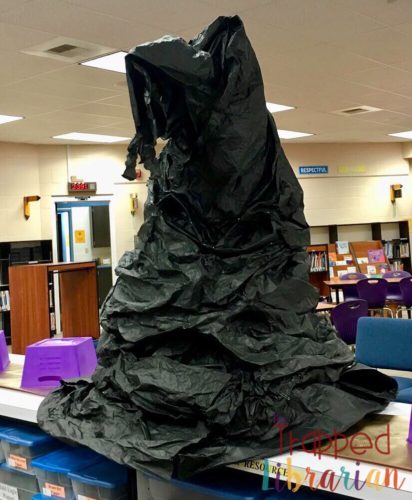 We found lots of ideas for our Harry Potter Week decorations on Pinterest. In the library, we transformed our space into "Hogwarts," and familiar places from the book. My assistant is an artist and she created this amazing gigantic sorting hat!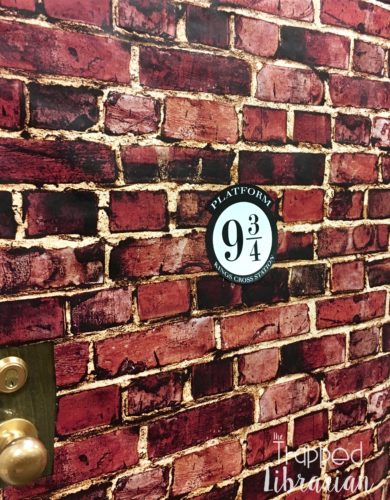 We also decorated with floating candles (hot glue fishing line to battery operated candles & hang from the ceiling), house signs, Platform 9 3/4 and more! I purchased a roll of this brick paper (intended for photo backgrounds) from Amazon and I found the Platform 9 3/4 sign free online. We covered our 2 closet doors this way.
Since our library is in the center of 10 classrooms, this Harry Potter Week transformation created a lot of excitement beginning Monday morning!
Harry Potter Week Lessons
In library classes, 3rd – 5th graders completed a STEM challenge involving a golden snitch, and K-2 students tried invisible ink writing.  I read a short summary of The Sorcerer's Stone to K-2 classes, since many of them haven't had the chance to read the books or watch the movies.
For some extra activities during checkout time, students could take the Harry Potter Sorting Hat Quiz, play Harry Potter "Would You Rather" Jenga, or color their house crest and reflect on the qualities that make them part of that house.
The Best Part of Harry Potter Week
By collaborating with my colleagues on this school wide theme, we created an excitement around reading the Harry Potter books. The conversations overheard in the faculty lounge and the lunch room were around details from the stories. It has been more than 20 years since The Sorcerer's Stone was first published! Although most of our students and staff were familiar with Harry, there were some that hadn't read the books or watched the movies yet. The whole experience reignited an interest in the books for everyone!
Let me help you with YOUR Harry Potter Week!
I've scoured Pinterest for all ideas for Harry Potter decor and have lots of great pins – check out my Harry Potter Pinterest Board!
No matter how you make it happen, I hope you will share your Harry Potter week stories with me! Be sure to comment below to share with all of us how this fun and engaging theme is helping you make your library the center of your school!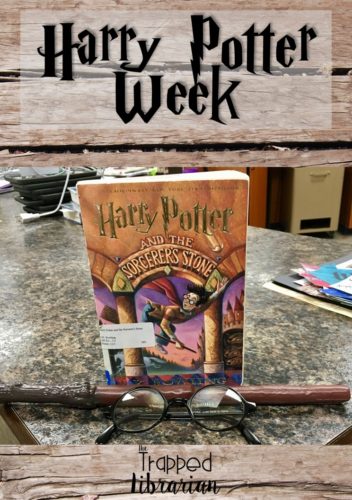 Be well and have fun!