Last Updated on March 28, 2022 by Laura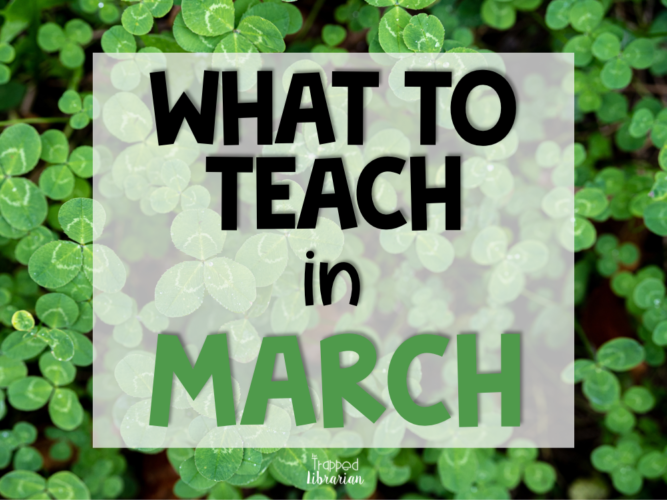 If Spring Fever is starting to spread through your school, it's time for some engaging, rigorous, and fun activities in your elementary library! Are you ready for your March library lessons? With spring on the horizon, March can be a fun time of transition in the library. Spread a love of reading, work on research skills, and create a calm atmosphere with these fun library activities for March.
1️⃣ Reading Week
March 2 is Read Across America day. While many of us used to celebrate Dr. Seuss's birthday, I know that some schools have moved on to a more general reading theme. If your March library lessons still include a celebration of Dr. Seuss, grab some ideas here: Dr. Seuss Activities for a Reading Celebration. If you are celebrating reading in a different way, this I Love to Read Month article has some ideas that will work for you. Whatever your preference, it's always a good time to celebrate reading!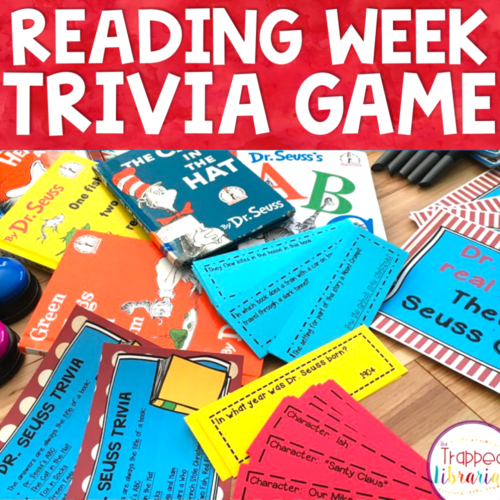 For a fun celebration of reading, grab this Reading Week Trivia Game! This exciting game in 3 rounds is always a favorite with my upper elementary students.
2️⃣ Leprechaun Storytime ☘️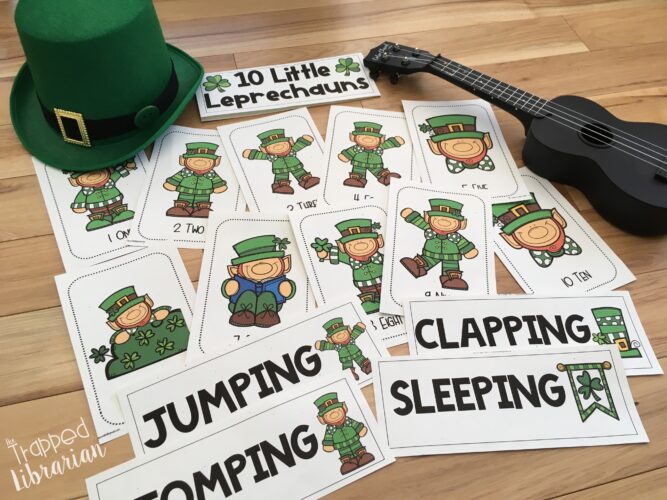 Is there anything more fun than a special storytime lesson for your youngest learners? Engaging picture books, music, movement and fun lead to high levels of engagement. Leprechaun Storytime is a true favorite with my younger students (the older ones like it too, actually!) I love an excuse to bring out my St. Patrick's Day t-shirts, shamrock eye-glasses, and all things green to get in the spirit of the holiday. If you think you want to try it, a quick trip to the dollar store is an easy and inexpensive way to get all decked out! I've got lots of ideas for your Leprechaun Storytime:
3️⃣ Digital March Library Lessons
If you want to have a flexible lesson on hand to use with your elementary library classes in March, I recommend How to Catch a Leprechaun by Adam Wallace. This book is available on Epic, so it is free for you to use! You can either display it for a whole group read aloud, or assign it for your students to access on their own devices. Either way, students will love following along as the kids in the story try to outsmart the clever leprechaun!
I've got the perfect digital activity to go with this fun book – How to Catch a Leprechaun Boom Cards. These BOOM Cards are a fun way to practice comprehension questions, rhyming words and vocabulary. BOOM Cards are digital task cards that are self-checking, so your students get immediate feedback! Use them on a Smartboard, computer, or tablet. Read more about using Boom Cards: Boom Cards in the School Library.
4️⃣ Animal Research
March is a great time to dive into research skills in your library classes, because your students are familiar with your library routines and your print and electronic resources. I definitely recommend you consider a research project for your March library lessons. I like to use scaffolded lessons so my students can build upon skills from year to year. This can be so tricky since we often just have our students for 30 minutes/week! If you've already read my article about teaching research skills to kindergarten and first graders, take a look at the next one: Strengthen Research Skills in 2nd and 3rd Grades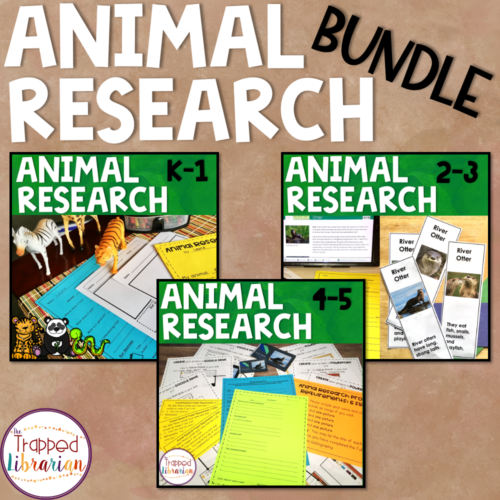 Animal Research Projects are motivational and fun and they allow for lots of choices for your students. If you're ready to try animal research activities in your library, I've got a fantastic scaffolded unit for you! My Animal Research Bundle has projects for K-5 students and can be used every year. Take a look!
5️⃣ Yoga Storytime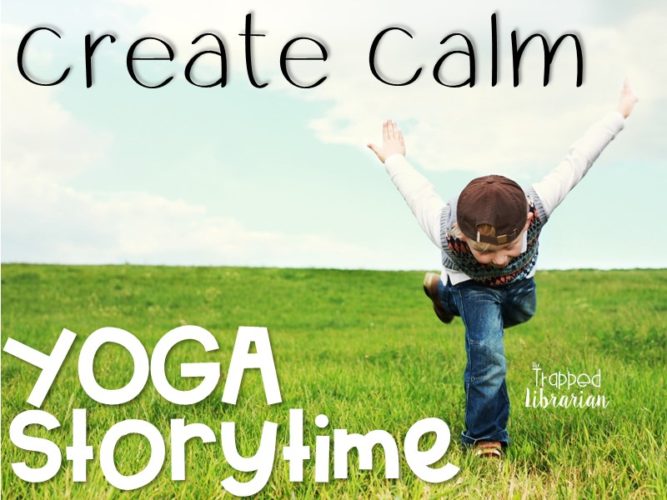 Testing season is around the corner, and some of our students can feel very stressed. I like to use Yoga Storytime as a way to help my students feel calm and focussed. As school librarians, we have the unique opportunity to interact with every student in our school. Sometimes the best use of that gift is to pass on some love and reassurance to those children when they need it the most. Although I used yoga the most with my youngest students, I have found that kids of all ages enjoy the challenge and the calm that comes with practicing the poses. Read more in this article: How Yoga Storytime Helped My Students Focus.
March Library Lessons Made Easy for You!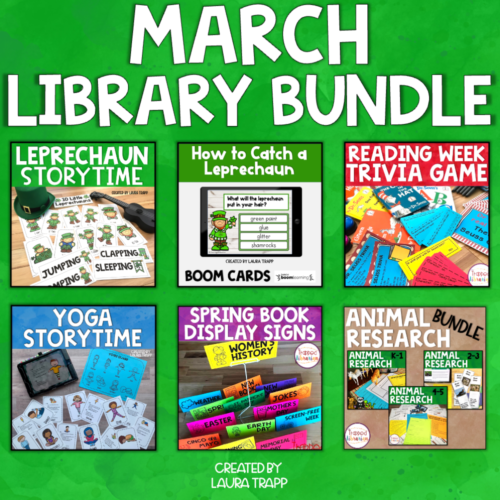 If you're looking for some activities and lessons to get your month off to a great start, grab this March Library Activities Bundle! Save time and money and get lessons that are sure to engage and motivate your elementary students!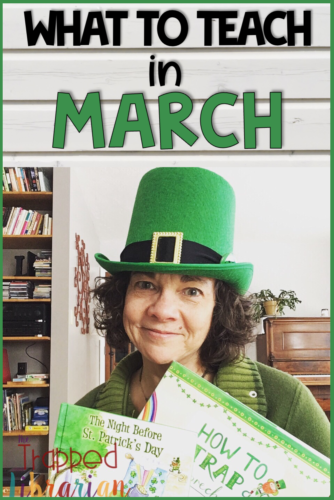 Here's to a great month!
Have fun and
Be the light!