Last Updated on March 12, 2022 by Laura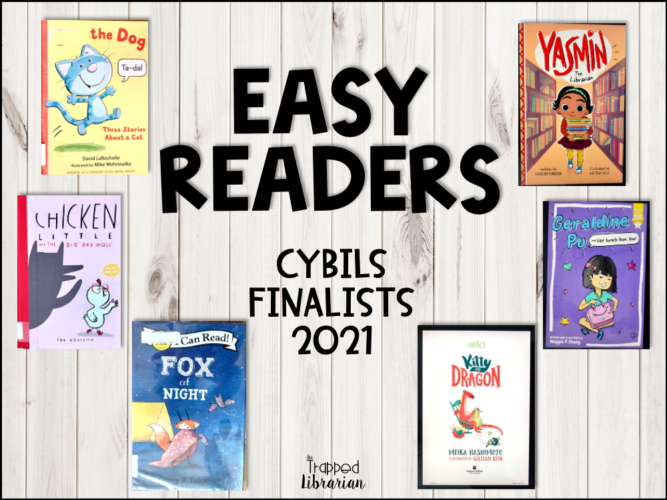 This post contains Amazon affiliate links for your convenience. If you click through to make a purchase, I may receive a small commission at no additional charge to you. Thank you for your support.
As of this writing, the Cybils Awards for 2021 have just been announced! I was again fortunate to participate in this process as a Round 2 judge for the Easy Readers and Early Chapter Books categories. The Cybils Easy Readers for 2021 are excellent new books, so I'm excited to recommend them to you! As always, all of the opinions expressed here are my own.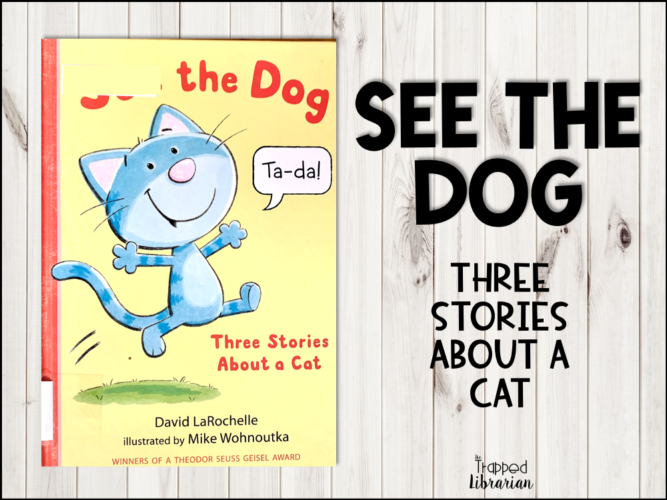 In this follow-up to See the Cat: Three Stories About a Dog, the cat fills in for the dog, who is sick. Readers will giggle as the cat encounters the challenges of water, digging in the dirt, and a "wolf." Happily, the dog shows up at the end of the book to save the day.
Early readers will be drawn in from the first page, which juxtaposes the sentence "See the dog" with a picture of the cat. Single sentences use high frequency words with lots of white space on the left of each 2-page spread. Simple, fun illustrations on the right add context that set up the beginning reader for success. A speech balloon accompanies each picture, adding fun details to the story. The format of short, episodic chapters hold the reader's interest and give early readers confidence.
This easy reader Cybils Award winner is an entertaining story that young readers will want to read again and again!
Chicken Little is NOT afraid of the Big Bad Wolf, until he runs into him. All the chickens are "hatching" a plan to get rid of the wolf. But Chicken Little investigates and finds they really have a lot in common. In the end, they all learn not to judge by appearances or preconceived notions and become friends. Readers who loved Chicken Little: The Real and Totally True Tale are going to love this sequel even more!
This fun story begins on the title page, where Chicken Little declares that he's not scared of the wolf. We know, of course, that he should be scared! All text is in speech bubbles, which is engaging, but may be difficult for early readers to decode. It honestly reads more like a picture book or early graphic novel to me. However you classify it, this is most definitely a fun book for a shared reading experience!
Fox is scared at night, worried about monsters. He meets 3 friends who help him to be brave. This sweet story with themes of friendship and helpfulness was the Geisel Award winner this year. Young readers will experience reading success due to the effective repetition of language and events. The kid-friendly illustrations invite readers to look more closely and make predictions. The surprise at the end is sure to draw giggles from young and old alike!
Yasmin the Librarian by Saadia Faruqi, illustrated by Hatem Aly
Yasmin gets to be the special helper in the library today. She helps Mrs. Kogo, the librarian, shelve books and tidy up the library. She also shares a special book, or "kitab" that her Baba gave her, with the class.
This transitional book in 3 chapters will be a hit with the aspiring librarians in your school. The cheerful, colorful illustrations support the text and help us feel as if we are in the library with Yasmin. Extensive backmatter includes questions to help connect the story to the reader. We can also learn about Pakistan, learn some Urdu words, and make a Yasmin bookmark. I highly recommend this uplifting "own voices" series for your elementary library collection.
Geraldine's family is from Taiwan, and she loves the delicious food her Amah packs in her lunch box. When a classmate makes fun of her food because it's different, Geraldine is embarrassed and tries to fit in. But when she makes a new friend who also has some unusual food, she shows her classmates that different can be delicious.
This early graphic novel can help some young readers feel proud of their own cultures. And it can help others want to learn about different cultures. Front matter coaches young readers in how to read a graphic novel, and teaches us some Taiwanese and Mandarin Chinese words. Highly recommended for your elementary library.
Kitty and Dragon by Meika Hashimoto, illustrated by Gillian Reid
Kitty leaves the barn in search of a quiet place to live. Everyone warns her to beware of the silent dragon. When she finally meets the dragon, he turns out to be an ideal roommate, and a friendship is born.
This easy reader in 3 chapters will be appealing to young readers because the characters are full of personality. Themes of friendship and problem-solving are relatable to all ages. The illustrations add to the story with the character's fun expressions and lots of details to support the text. Repetition, text placement, and the detailed illustrations ensure success for developing readers. Highly recommended for your easy reader collection.
Want more Easy Reader book ideas?
My Book Series Bundle: Easy Readers & Picture Books has book lists for popular children's picture book series and easy reader series. Also included are fun bookmarks to print on colorful paper or card stock to have on hand in your library. Help your beginning readers find their new favorite book series!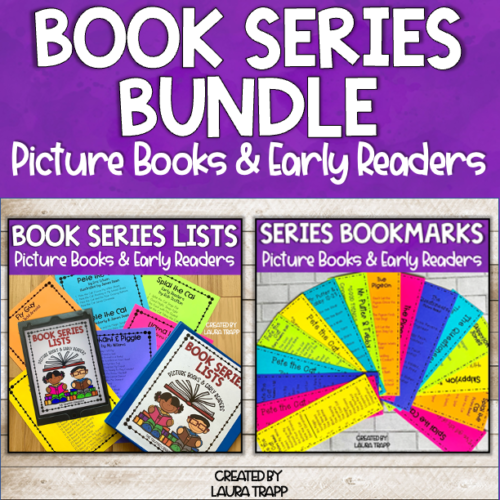 Learn More!
I sure enjoyed my experience serving as a Round 2 judge for the Cybils Easy Readers 2021! You can read about all of the winners on the Cybils blog.
For more short reviews of books for your elementary library throughout the year, follow me on Instagram!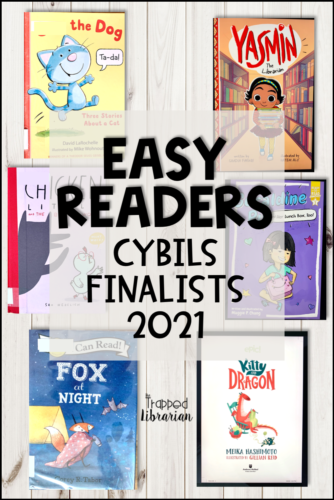 Keep reading and…
Be the light!