Last Updated on October 29, 2022 by Laura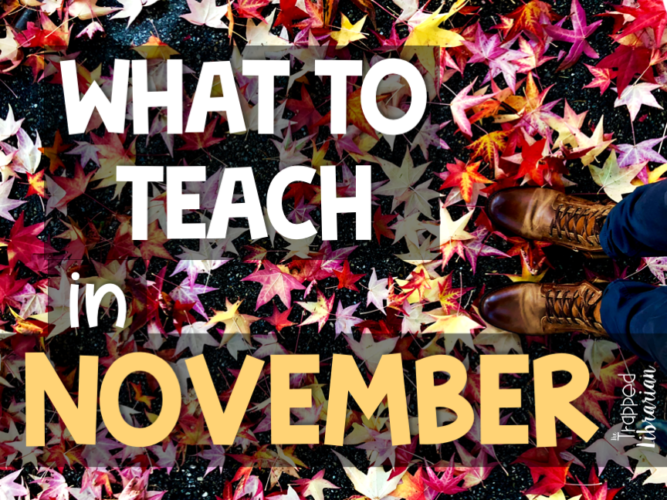 What to teach in your November library lessons? Since this month is usually the start of some crazy ever-changing schedules in my school, I like to use lessons that are engaging, flexible, and fun! Plan to use low-prep activities so you won't feel so frustrated if (when!) classes are canceled, moved, or added. Your November library lessons can be fun and engaging, AND you CAN save your sanity!!
This post contains Amazon affiliate links for your convenience. This means that if you click through and make a purchase I may get a small commission at no additional cost to you. Thank you for your support!
November Book Selection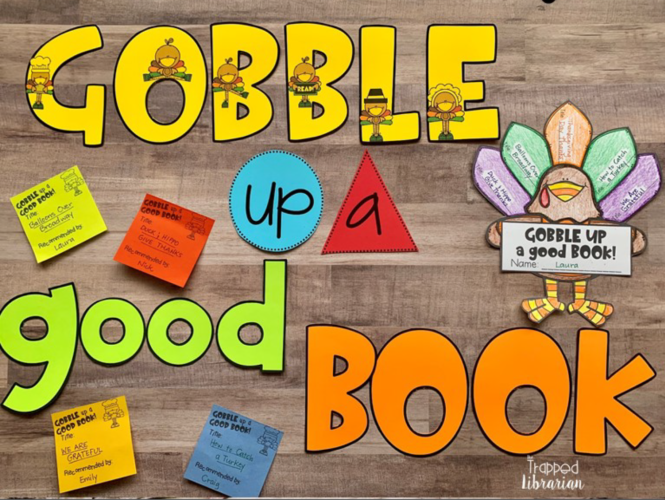 As always, seasonal book displays are a great way to brighten up your school library. In the past I've shared about eye-catching book arrangements that will hook your readers on a new book. Another great way to encourage and build a culture of reading in your school community is with an interactive bulletin board. Your students and staff will love to share book recommendations with this Gobble Up a Good Book bulletin board! Put up this low-prep November bulletin board, print the cute sticky notes, and watch the reading excitement spread throughout your school!
November Picture Book Lessons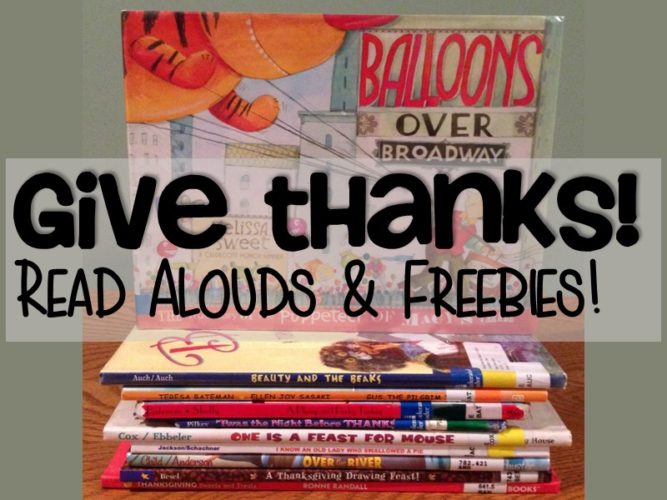 Gather a pile of November picture books and be ready for anything this month! Seasonal picture books can help you to be *FLEXIBLE* with your November library lessons. To be prepared for the ever-changing November schedules, make sure you have some fun read alouds on hand with simple (but engaging) activities. Read about my favorite November picture books and get links to FREE teaching resources on TpT: November Picture Books and Freebies
Library Catalog Practice
November is a great time for a fun activity reinforcing library catalog search and location skills in the stacks. I use cards with fall topics and make a game of searching the catalog, filling out the call slips, and finding the books on the shelves. My students have fun with this Fall Library Catalog Practice and I can use the activity as a mini assessment to check in and see how they're doing with these skills. You can read more about how I structure this activity here: Spice Up Your Library Catalog Instruction! (Scroll down to the "Make It A Game!" section!)
Balloons Over Broadway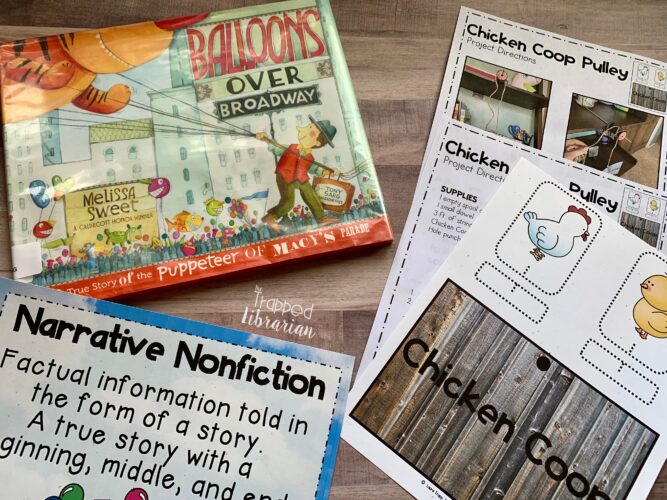 This is my absolute favorite book to use in November! Balloons Over Broadway: The True Story of the Puppeteer of Macy's Parade is a beautifully illustrated picture book by the amazing Melissa Sweet. It tells the story of how Tony Sarg came to create the iconic balloons that first appeared in the Macy's Thanksgiving Parade in 1927. Of course, the book is perfect for your November library lessons, since the famous parade is on Thanksgiving! I used this book with all of my classes the week before Thanksgiving. You can read more about it here: Celebrate Ingenuity with the Story of Tony Sarg. For a fun unit to go with the book, take a look here: Balloons Over Broadway: Print and Digital Activities.
Book Fair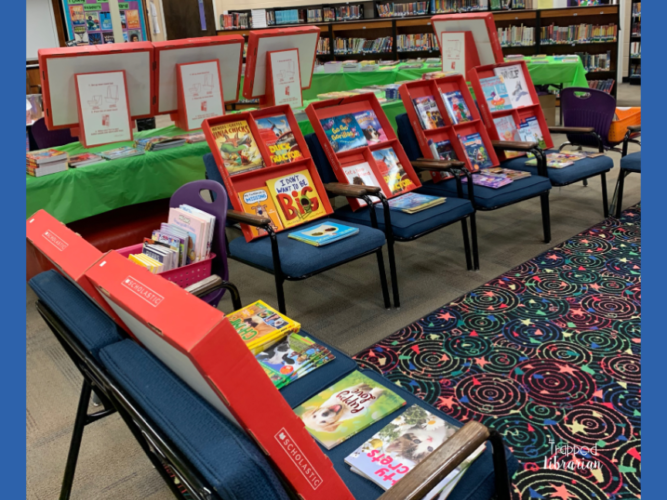 I always had a book fair during Parent Teacher Conferences at the beginning of November. The Book Fair is such a fun event for your school community and of course it's a fantastic time to build your schoolwide culture of reading. We all know how much work planning, setting up, and running the Book Fair is – I often collapsed at home in exhaustion each night! But, I believe the hard work is worth it and I've got some tips for you here: 7 Tips for a Successful Book Fair. For more help, check out the Book Fair Survival Kit!
Technology Activities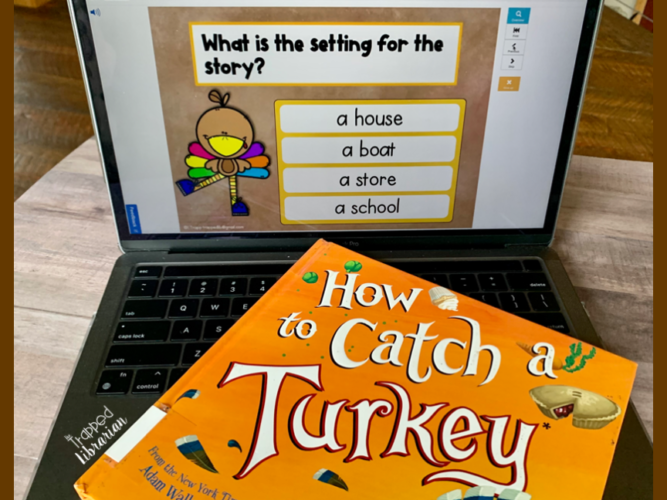 I like to use activities involving technology this month, as long as they are easy to prep and not a big deal if we don't get to them. That means that I find a book available on Epic (for free, of course), like How to Catch a Turkey by Adam Wallace. I just created some How to Catch a Turkey Boom Cards that reinforce rhyming words, vocabulary, and comprehension. Boom Cards are interactive and paperless, and they give students immediate feedback!. Don't worry, if you've never used Boom Cards before, they are super easy to use with a "fast pin." I explain it all here: Boom Cards in the School Library.
November Library Lessons Can Be Fun!
Want to save time and money as you plan your library lessons for the month? Take a look at this November Library Bundle for some low-prep elementary library activities and resources!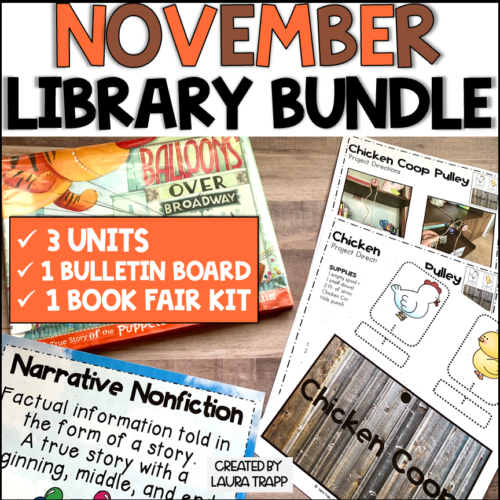 November can be a fantastic month in the library! Have fun and make it a great month!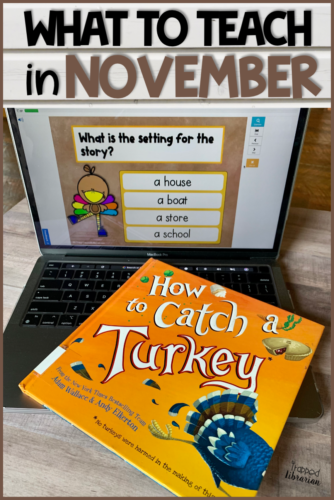 Be the light!