Last Updated on May 12, 2021 by Laura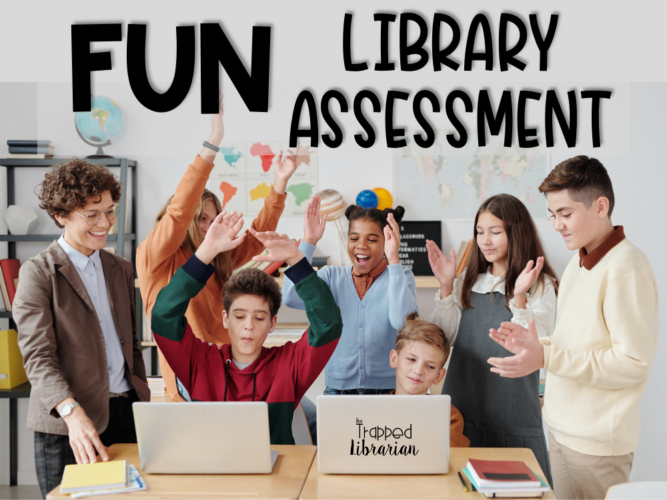 Assessment in the school library can be tricky. In my opinion, it's not strictly a paper-pencil thing. We see our students on a limited basis (for me it was once a week, now it's once or twice per month). The skills we are teaching in our library classes support lifelong learning – they're definitely important! Therefore it makes sense that we want to check that our students are successfully acquiring those skills. We all know that today's students experience enough of the testing atmosphere in their classrooms. So, how can we make assessment in the school library fun?
Types of Assessment in the School Library
There are two types of assessment that we focus on in education.
Formative Assessment helps us to check for understanding, to see if our instruction is effective. This type of assessment is often less formal. Formative assessment gives students feedback quickly, so they can be feel in control of their learning. I find that I get buy-in from students more readily with this type of assessment. It also helps us to plan for the next steps in our library lessons.
Summative Assessment is usually given at the end of a unit of study. This more formal assessment measures whether students have learned all that they needed to in the unit. It can also assess whether students can apply what they've learned. You can use summative assessment results to help you plan for next year's library learning as well.
I believe that formative assessment is more practical, especially in the school library setting. However, sometimes I have to use a summative assessment to report data to administration in my school district. But I've found that I can use a combination of the two to provide feedback to my students as well as data to admin.
Library Search and Location Assessment
A key skill in school library classes is the ability to search for and locate information. As students progress through elementary school, proficiency in this area helps them gain independence and control when looking for materials and information for assignments as well as personal enjoyment. This is a lifelong skill that will serve our students well in middle school, high school, and beyond.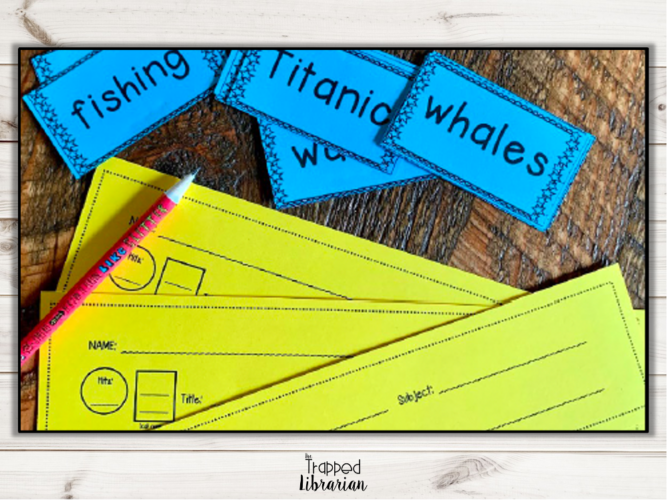 I believe instruction on library catalog search and location skills is time well spent. And it makes sense to assess students to ensure they are learning the skills needed. However, let's practice these skills and assess them in a meaningful and fun manner. And let's make sure to include the element of choice in the fun!
Practice and Assess Library Catalog Search and Location Skills
You can make school library assessment fun by turning it into a game.
Create a set of seasonal subject cards and simple answer slips and print them on bright colored cardstock.
Students choose a subject card and do their own library catalog search.
They choose a book from the results and fill in the call number and title on the brightly colored answer card.
Then they find the book on the shelf, or where it would be shelved if it's checked out.
They slip the answer card next to the book with the end of the card showing.
You can circulate while students are searching and give hints and guidance if you like. I like to bring a clipboard with class list attached to note any students that need some reteaching.
For a formative assessment or practice activity, you can be more relaxed, even allowing students to work in pairs. For a summative assessment you can be a little more strict with the help you do or do not provide, and have students work independently.
Done-for-You Library Catalog Units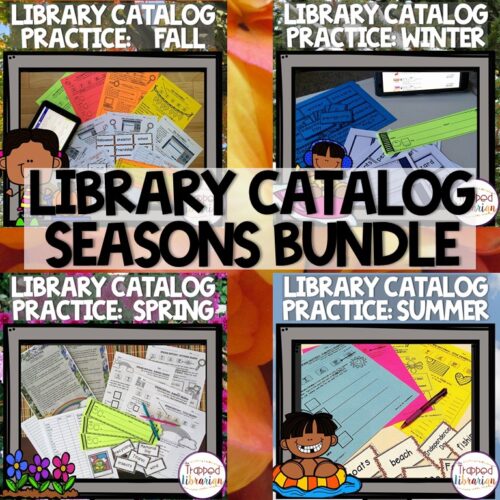 Make it easy on yourself as you provide library catalog search and location practice throughout the year! Try these Library Catalog Seasons units for some fun search and location practice and assessment. Each unit includes seasonal subject cards and answer slips, along with:
student practice pages for Subject, Keyword and Title Searches
pages to use with Destiny Discover
"How to Place Holds & Make a WANT TO READ list" video tutorial and reference page for Destiny Discover
PowerPoint student pages to upload to Google Classroom or Microsoft Teams for distance learning & digital learning
lesson suggestions and ideas
guidelines & tips for assessing your students
editable Title Search page you can customize for your library collection (PowerPoint file)
When you take the time to make your school library assessment activities engaging and fun, your students will benefit with lasting lifelong learning!
Be the light!