Last Updated on February 12, 2022 by Laura
How many times have you found yourself sitting in the middle of a school professional development aimed at classroom teachers? I know I've been there. We doodle in our notebooks and daydream of school librarian professional development just for us. We need PD that addresses the many facets of our roles within our schools. Our professional development must prepare us to meet the needs of our students, teachers and families. We want training that will help us make our library the center of our school.
PD for School Librarians
Well, I've finally made that dream a reality with a new professional development series that can help you reimagine your school library program for the New Year. Topics like School Library Advocacy, Collaboration, School Library Events, Musical Storytime, and The Flexible Librarian will help you reflect on your current practices and make a plan for growth.
Learn at Your Convenience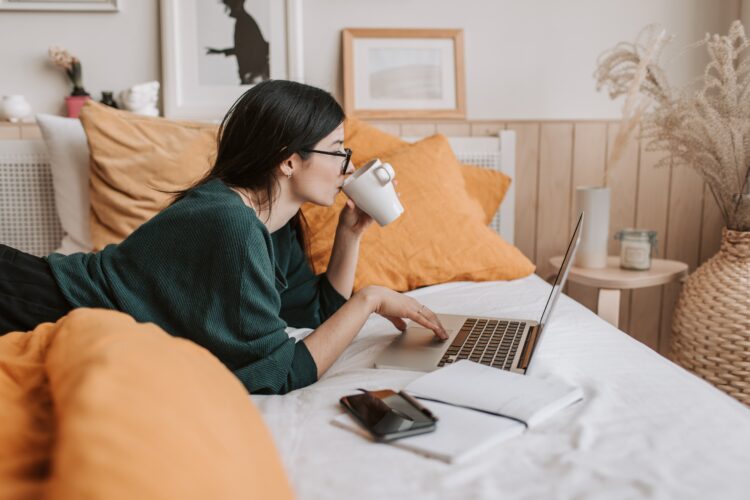 My professional development for school librarians is online and on-demand. So you can learn from the comfort of your own home (or anywhere!) at a time that is convenient for you. Do you have a long weekend coming up? An evening at home with nothing to do? A school break? Anytime that works for YOU is a good time to learn and grow as a school librarian.
Taught by an Expert
It's my practical experience as an elementary school librarian that prompted me to create this professional development series. I have 32+ years of experience as a public educator and I've spent the last 15+ years as an elementary school librarian. I achieved National Board Certification in Library Media: Early Childhood – Young Adulthood in 2011. All this is to say that I've spent a great portion of my life in your shoes! Because I've been there, I'm sharing what has worked for me.
What topics are covered?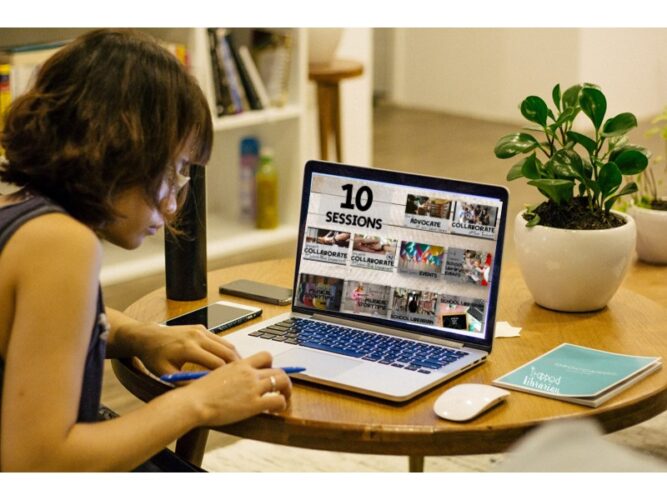 The complete bundle of professional development for school librarians includes 10 sessions:
School Library Advocacy
Collaboration in the School Library
Specialist Collaboration for School-Wide Engagement
Specialist Collaboration Part 2
The Benefits of School Library Events
Ideas for School Library Events
The Benefits of Musical Storytime
Resources for Musical Storytime
The Flexible School Librarian
The Flexible School Librarian Part 2
Each of these topics is available as a stand alone unit, or a mini-bundle. You can see all of the options by looking at the bundle preview.
What is Included?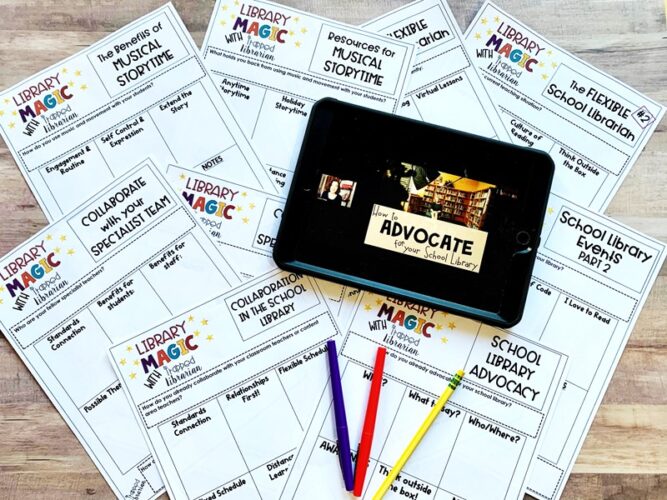 Each unit includes:
a video around 30 – 50 minutes in length
a notetaking page to help you reflect on your current practices and make a plan for growth
resource pages with further strategies and links to helpful resources
Each session connects to national standards and includes ideas for the unusual, varied teaching situations we are currently facing.

Laura Trapp of The Trapped Librarian Professional Development
The Complete Bundle also includes:
an overview of the course to persuade your decision makers to give you official PD credit (this is FREE in the preview if you need it ahead of time!)
a reflection page to document your learning
a total of 7 hours of videos
a completion certificate for 7 hours of professional development
Take a Look!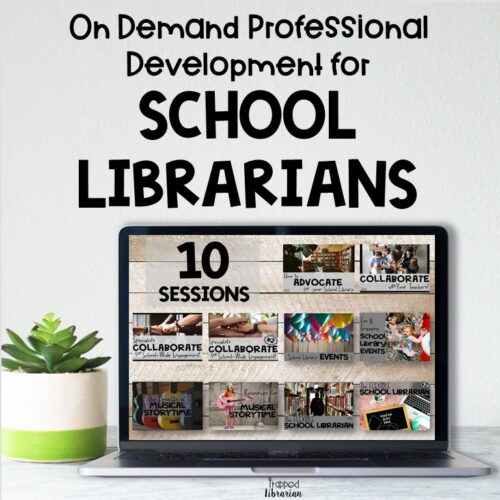 If you're ready to dive into some professional development just for YOU, click here to preview the complete 10 session series. I think you will find this school librarian professional development convenient, relevant, motivating and helpful.
As a matter of fact, you can try the first session absolutely free so you can see if this format will work well for you. Start your learning today!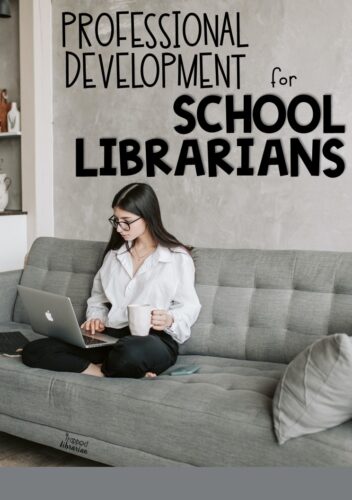 Be the light!