Last Updated on February 12, 2022 by Laura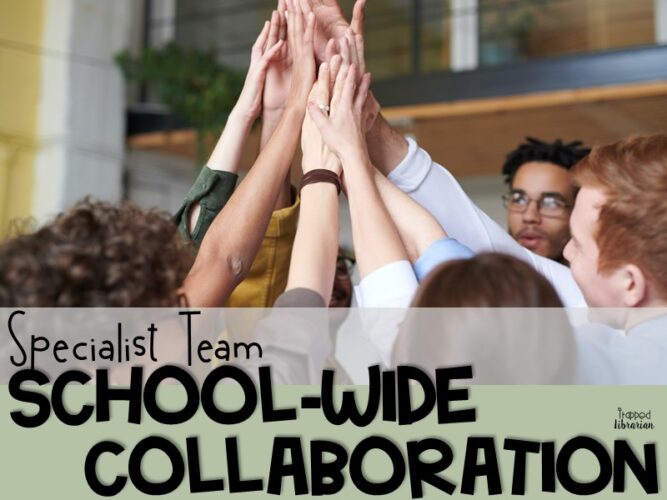 As school librarians, we are constantly working to collaborate with the other educators within our schools. We know that these efforts result in stronger and deeper learning experiences for our students. School specialist collaboration takes traditional collaboration up a notch by uniting the entire school community around an engaging learning theme. If you need more convincing, read my previous post: Energize Your School Community With Specialist Collaborations.
What About Scheduling?
You may think that scheduling collaboration activities with your fellow specialist teachers may be impossible due to the unique circumstances of your school. Whether you are working with a flexible or fixed schedule, I realize there can be obstacles. However, I worked with my colleagues using several different scheduling models and I believe you will find a school specialist collaboration situation that will work for you!
Bring Them All Together!
The first method we used for our school specialist collaborations was to combine our students together in the gym. Since my music, physical education, and library share the same schedule, this was pretty easy to do with minimal disruption. We were working on an Irish Culture unit right before St. Patrick's Day. Each of the teachers took 10 minutes of our 30 minute session to lead an activity. We did Irish dancing, parachute skills, and library skills each day. I did mini lessons in research and citation skills, map skills, fiction and nonfiction literature, the Gaelic language, and a fun trivia game. I've share lots more details of this first try in this post: Library + Music + PE = A Winning Team!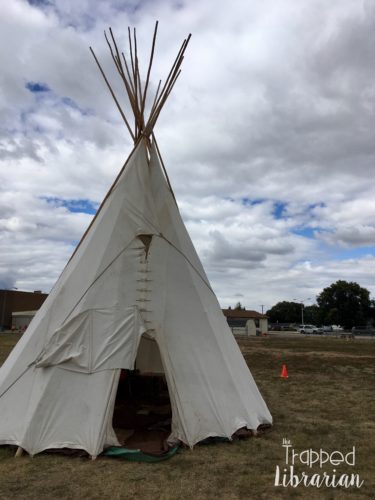 Each September during our Native American Culture Week, we use a variation on this "all together" schedule. Again, we began each session in the gym with 3 classes. Our gym teacher uses dots for each student's place, so we could easily mix up our classes in order for the students to interact with a different group of their peers than usual. We divided this mixture into three groups. One group went upstairs to the music room to learn about traditional and contemporary Native American music and dances. One group stayed in the gym to play traditional Native American games. The last group came with me outside to a tipi for library-related activities. Since our class period is usually 30 minutes, we had to rotate every 10 minutes!
Testing Week Collaboration
Have you ever wished that you could help with some active learning during testing week? Our schedules can get difficult then, anyway, right? And our kids desperately need a break from the quiet! Julie Olson, That Library Girl, has shared a great "Community Week" idea for school specialist collaboration during testing week: Librarians Foster Collaboration With Specialty Teachers.
Divide and Conquer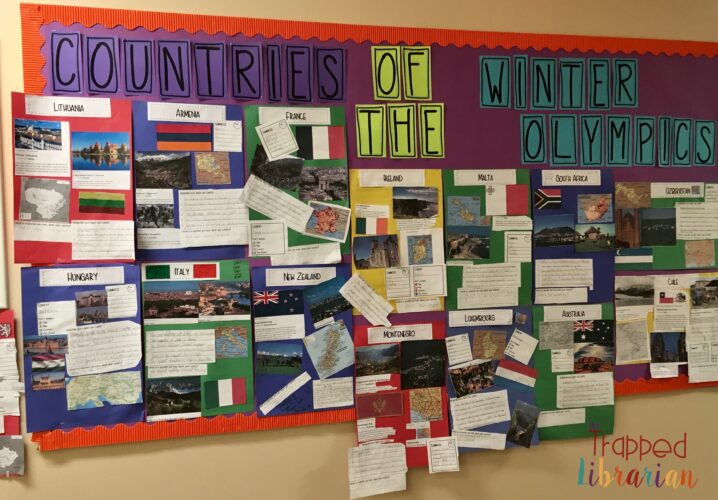 For some specialists, an "all together" situation will not work. However, another form of school specialist collaboration can occur without changing your schedule or your meeting place at all! My colleagues and I worked together on a Winter Olympics unit that did not involve bringing the kids together in a physical space. We each carried the theme through in our regularly scheduled lessons in our own spaces. The physical education teacher divided students into country groups, and they learned about several Olympic sports, representing their teams. In music classes, students learned about and listened to the national anthems of these countries. In library classes each group did a mini research project and created a poster to teach others in the school about their country.
We have used a similar scheduling model with other school-wide themes too. We've used Star Wars, Black History Month, Cinco de Mayo, and Harry Potter to name a few. These specialist collaboration weeks send a buzz of excitement throughout our school, without any disruption to our schedules.
Lift Up Your Colleagues
All staff members – teachers, administrators, paraprofessionals, and support staff – can get in on the fun when you collaborate around a school-wide theme! This was most evident during our first Harry Potter Week, when adults would flock to the library during their breaks to take the Sorting Hat Quiz! We had a staff bobsled races in the gym during our Winter Olympics week, and a galactic games for staff members during the Star Wars unit. Laughing together and participating like students is a unifying activity that lifts staff morale. Bringing an element of fun to our colleagues was a definite bonus!
School Specialists CAN Collaborate!
Maybe you have lots of specials area teachers to collaborate with. Or maybe the specialists in your school are stretched between buildings. Maybe you don't like being lumped in with "specials" teachers. Regardless, there is a way for you to provide enriching, relevant, connected learning experiences for your students. Facilitating activities and experiences within our content areas around a common theme connects the disciplines for a deeper, more engaging, more relevant, and longer lasting learning experience for our students! Our whole school community benefits when we work together! Give it a try, and be sure to let me know how it goes!
Learn More!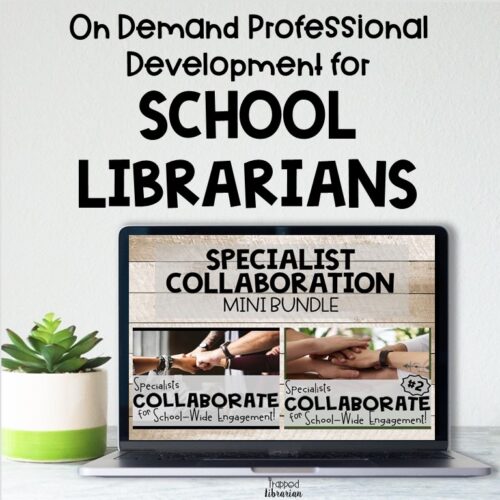 Are you ready to dive deeper into specialist collaboration in the school library? This online, on demand Specialist Collaboration PD will help you become a more confident and effective school librarian. Learn how collaborating with specialists in your building creates a wide-reaching impact, and get the details for 5 successful themes with 2 scheduling scenarios.
FREE PD for YOU!
Sign up for my weekly email newsletter and I will send you the first professional development session on school library advocacy absolutely free! Start learning now!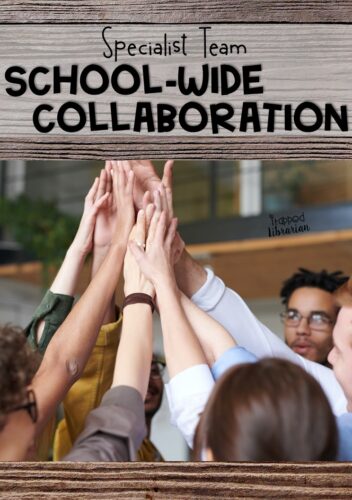 Be the light!