Last Updated on January 24, 2021 by Laura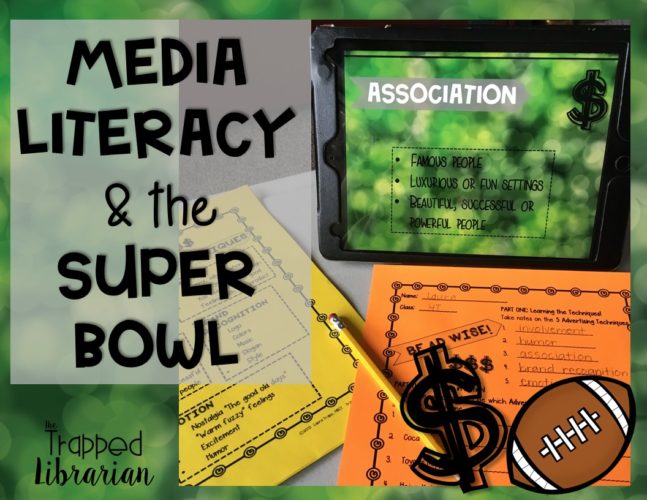 As we get closer to the Super Bowl, more and more students are discussing football and their favorite teams. They come to school on Mondays talking about what happened at the latest playoff games. Excitement builds with each passing week. This is the perfect time to hook students with a great lesson focusing on media literacy skills. I've got a fun and engaging lesson using Super Bowl commercials that creates quite the buzz in my library!
Set the Stage
We create a book display in the library with football and Super Bowl books. I like to point out the sports section (796) for our Dewey of the Day. And for our attendance question, I like to ask "What is your favorite football team?" Our Primary Source of the Week features a photograph of a football game from sometime between 1905 and 1945. The week before the Super Bowl, I ask "Who do you want to win the Super Bowl?" or "Who do you predict will win the Super Bowl?"
Lay a Foundation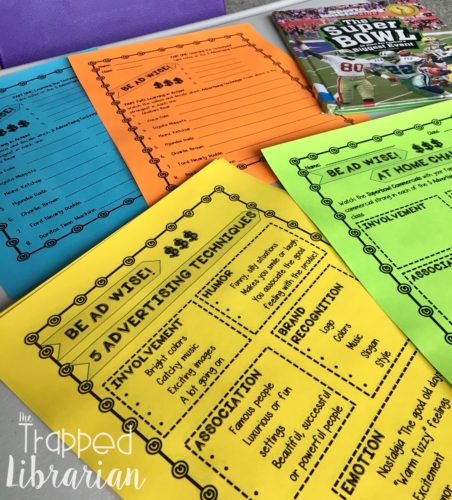 The lessons I created take 2-3 class periods in my library. Our class sessions are 30 minutes, once a week, so I start around the second week of January. I use these lessons with my fourth and fifth grade classes. For the first class session, I tell the students that companies are working on their advertisements for the upcoming Super Bowl. I have a "Be Ad Wise" slideshow that I use to guide our first discussion. We talk about the purpose of advertising (to get us to spend our money), and why it is worthwhile for companies to spend big money on commercials that air during large events like the Super Bowl.
One of the best tips to pass on to students are the following four questions to consider when viewing a commercial, or any type of advertisement:
Who made the ad?
What message are they communicating?
What do they want me to do?
How are they trying to convince me?
Understanding Advertising Techniques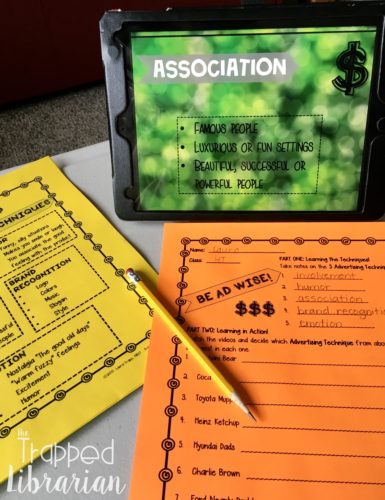 The slide show I use covers 5 common techniques used in television commercials:
Involvement
Humor
Association
Brand Recognition
Emotion
I've chosen a commercial from past Super Bowl games to represent each advertising technique to show as a sample. This usually generates a lively discussion with students making connections to other ads that use the same techniques! I have students take notes on each technique so they can use them for an activity the next class session.
Learning in Action!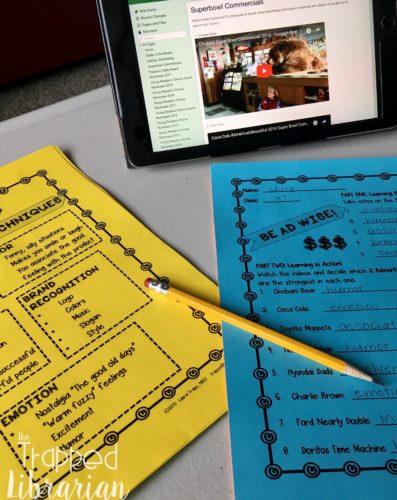 During the next class session, students work with partners. They watch a commercial from last year's Super Bowl and decide which technique (or techniques) are the strongest in the ad. I tell them that there several correct answers for each advertisement. As long as they can justify their answer, it is correct! You can find Super Bowl commercials at the following website: https://superbowl-ads.com/ I don't turn the kids loose on this site, however, since some commercials feature alcohol and other subject matter not suitable for elementary aged children.
I created an answer sheet and have the kids work in pairs so they will have conversations about the techniques. I love the discussion this activity generates! Here are some comments I overheard during the last class session:
I love that!
Okay, that's Emotion.
The Microsoft commercial is really emotional.
That's probably Brand Recognition – they did show the brand at the end.
I love that!
That's my favorite!
That's O'Dell!
At Home Challenge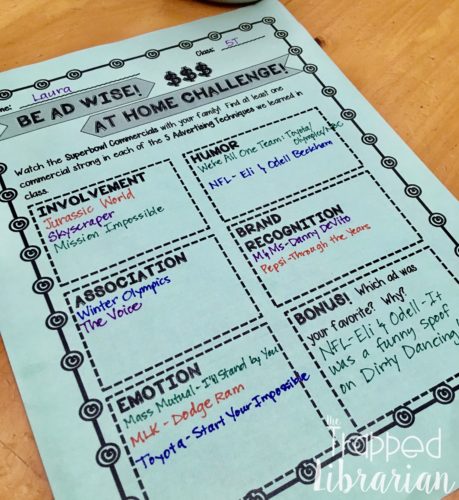 I like to give my students an activity that they can do with their families during the Super Bowl. I give them a page with the five advertising techniques to take home. On the reverse side, I ask them to list a commercial for each technique. Parents and students enjoy doing this activity together, and it generates some lively discussion at home. Students who return the At Home Challenge are entered in a drawing for a prize from the library!
Important Life Skill
Media and its influence on us has changed dramatically over the last decade. Some would argue that its influence is getting stronger. Young or old, we are all targeted by advertisements in many areas of our lives – websites, video games, billboards, email, social media… It's extremely important that we help our students learn at a young age to think critically about advertisements so they can make informed decisions regarding their spending and behaviors. Media literacy lessons are more critical than ever before!
You Can Do It!
You can create a similar lesson using commercials you find at the Super Bowl Ads website! I guarantee your students will enjoy analyzing these commercials as they talk about advertising techniques. You can also find more information on advertising and its effect on children at the Campaign for a Commercial Free Childhood website. To help you get started, I've got a free resource for you: 5 Advertising Techniques. This one page pdf shows the 5 techniques I use in these activities along with descriptions for each.
If you don't have time to create your own lesson, I've got everything you need in my unit: Media Literacy: Advertising Techniques. This engaging media literacy unit includes:
A slide presentation defining 5 advertising techniques with links to video examples
Student activity pages for school and an "At Home Challenge"
Link to a website with 8 videos to analyze for advertising techniques
Additional page of links to 8 videos from 2019
Teacher preparation tips, lesson plans, and extension ideas
Click the image below to take a look at the preview!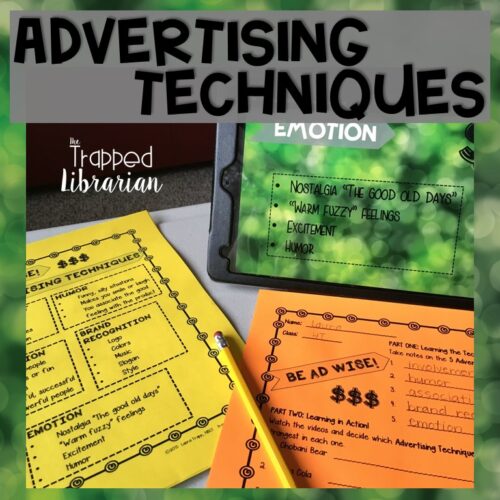 What kinds of media literacy lessons do you use in your elementary library or classroom? Share your ideas with us below!
Be the light! ~