Last Updated on September 25, 2015 by Laura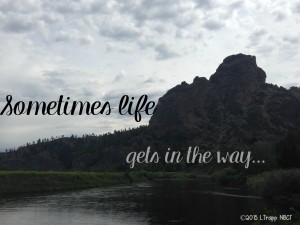 Sometimes life gets in the way of all the things I want to do.
For example, I started out this school year with some personal goals…
Find the joy in teaching and let go of the stressful stuff. Or at least let go of the stress-filled attitude that I've been having much too often these last couple of years. I've been especially cranked up at the beginning of the school year. While I'm scrambling to get my act together in August and September, other teachers (in the same boat, scrambling too!) come to me for favors – computer problems that need trouble shooting, schedules that need changing, even supplies they "NEED" from my personal stash. Instead of cheerfully helping, my habit had become to respond under duress, to hurriedly help them in a cloud of stress and angst, then go home and bitch a moan to my poor hubby about how "selfish" and "inconsiderate" and "under-prepared" my coworkers were. Of course I was overreacting and completely wrong about my dear colleagues!  They were, like me, overwhelmed with the needs of their students, the demands of our district administration and the burdens and busy-ness of their own daily lives. Upon reflection this past summer, I resolved to personally be better prepared in my own life so that I could cheerfully and willingly help anyone who came to me in any way that I could.
Plan out my year in advance with lessons that I could come back to in future years. In other words, I wanted to work smarter, not harder. Too many times I've found myself cramming to create a lesson of substance, only to forget to document the steps I took and the insights gained with ideas for tweaking the lesson the next time around. I've been relying on my memory (which seems to get a little duller as I age!) to carry me through from year to year. This has become so stressful for me as I scramble to find where I've stored resources – my computer files and my actual files and binders are so scattered!
Apply for a sabbatical. I want to be able to work 10 more years and I'm feeling the need for a rejuvenation – a change of outlook. I've been pretty committed to applying for a semester off to pursue professional development but haven't put my finger on the exact project to latch onto. Some ideas I've had include applying to the education program at the Ron Clark Academy, travelling to visit notable school librarians in other cities and states, attending regional and national conferences, and sharing my experiences by reflecting on them here, on my blog.
Funny how life gets in the way and grabs hold of you and forces you to refocus. On August 27, I noticed a lump in my right breast. And that's when my life took an irreversible turn. 3 weeks later, here I sit, coping with a diagnosis of breast cancer that I never in my wildest dreams thought could belong to me.
And guess what?
I've found the joy in teaching. The moments, hours, days I've had at work while waiting for my diagnosis and since then have been some of the sweetest I've experienced in a long time. I don't know how to explain this change in outlook, but everything looks different to my soul right now. Every interaction is a pure delight. The hard stuff is so inconsequential. Difficult directives from administration? Whatever. Difficult children? I hold their hands, smile at them, listen to them, speak to them with love. I'm grateful I have this job that feeds my soul.
I'm becoming a planner! Getting ready for a long-term substitute has me digging deep in my memory and my files! I'm typing up lesson outlines that are not only going to be useful for my guest teacher, but they are going to be really handy for me next year!
I'll be taking a sabbatical, of sorts. I need surgery, and most likely, follow up treatment in the form of radiation and possibly chemotherapy. This means time away from my school and my library-classroom. This will be a great opportunity for me as I reflect and let my body and soul rebuild.
My prognosis, by the way, is very good as far as we know right now. I've got to go through some unpleasant stuff, but all signs point to the fact that I will come out a-okay on the other side.
So, what am I going to do with this "life" that's gotten in the way?
I'm going to embrace it.  I'm going to learn.  I'm going to grow.
And I'm going to heal.