Last Updated on March 30, 2021 by Laura
Earth Day is a day to take action. Children in schools across the country will be setting up recycling stations and picking up garbage. They'll be making posters and remembering to turn off the lights when they leave a room. Earth Day is a great time for a fun school wide event, special library storytime, or some engaging lessons. Here are seven books to motivate your elementary school learners and inspire them to make a difference for the planet that we love!
I borrowed these books from my elementary library. All opinions are my own! For your convenience, this post contains Amazon affiliate links. If you click through and make a purchase, I may earn a small commission at no cost to you. Thank you for your support!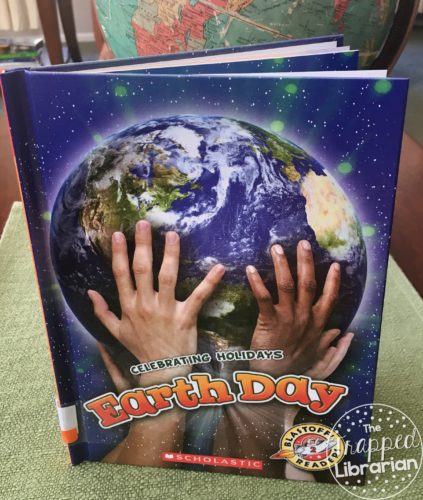 This 2018 informational book is part of the Celebrating Holidays Blastoff! Readers series published by Bellwether Media. Written at around a second grade level, it will appeal to young readers because of the photographs and bright layouts. The book has a little bit of everything: some history behind Earth Day, what it means to people today, and how we can help our Earth. There is even a step-by-step lettuce planting activity! I will read it to my kindergarten and first grade classes as part of our Earth Day Storytime. Like all Blastoff! Readers, this title has a table of contents, index, glossary, and a "To Learn More" section. Those elements, along with captions, a map, a chart, headings, and bold words make it a great book for reinforcing informational text features with your students.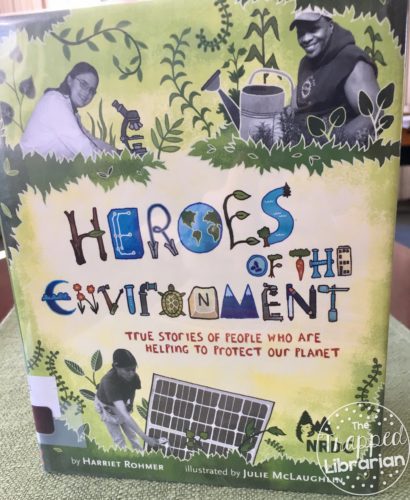 This book contains 12 short stories about real people of all ages who have taken on a project that helps the environment. With chapter titles like "Bringing Solar Power to Indian Country" and "Recycling Electronic Waste," readers are sure to find a project that inspires them to take action! It would be an excellent read aloud for grades 3 and up, and you would not have to read the whole book. Each chapter is a short story that is independent of the others. Read a few of these inspirational stories around Earth Day, along with the 2 page "How You Can Get Involved" section!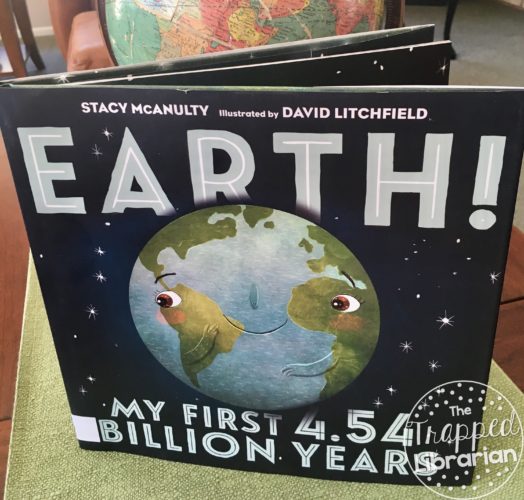 This creative picture book is a fun personification of our home planet! Told from Earth's point of view, each page gives some earthly facts along with engaging illustrations. The author and illustrator cleverly include a timeline, diagram, and allusions to important events in Earth's lifespan. The author's note and back matter on continents, the Milky way, and Earth's five major extinctions as well as the bibliography give teachers, parents, and older readers some great extension ideas for continuing the learning into geography, history, and the solar system. This book will appeal to a wide age range of elementary students. I like reading this book as part of a learning experience about Earth Day to help us understand our planet and then we can consider how to take good care of it!
I Love Our Earth by Bill Martin Jr. and Michael Sampson with photographs by Dan Lipow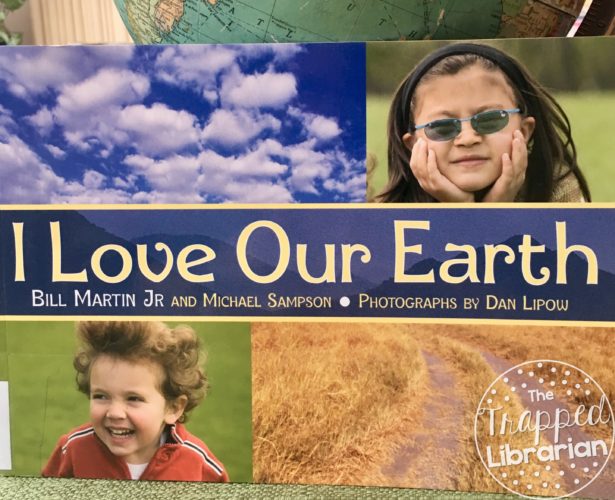 The beautiful and diverse photographs of places and faces from all over the world along with the sweet tribute to Earth make this a captivating book for young readers! The short phrase on each page puts the focus on the photographs, which are rich with detail. I will be using this as part of my Earth Day Storytime in kindergarten and first grade.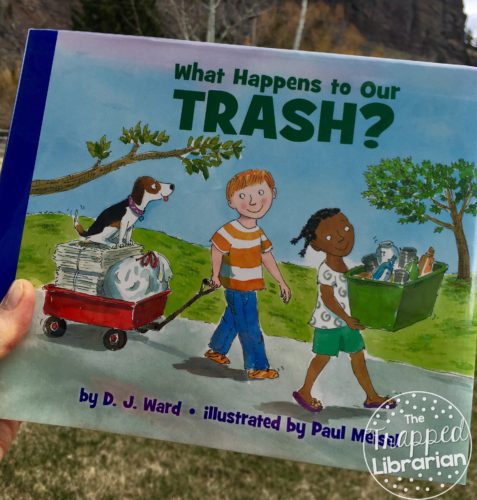 A great explanation of trash, landfills, and the concepts of reduce, reuse, and recycle! The illustrations support the text brilliantly, including "kid created" labeled diagrams for science projects. Diverse representations of children and families will ensure that many students can see themselves in the pages. The book is a great balance of background information and suggestions that kids can implement to create less waste. The back matter has directions for creating your own compost pile as well as several kid-friendly websites for further learning. The end papers are filled with interesting trash facts too! This book would be a great read aloud in 2nd and 3rd grades as a spring board for Earth Day projects to inspire action and further learning.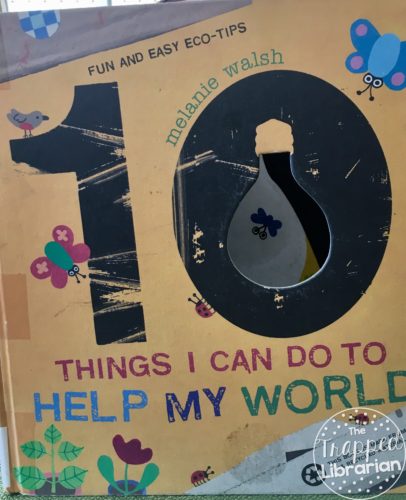 "Fun and Easy Eco-Tips" accurately describes this simple book made from 100% recycled material. Each 2 page spread contains a simple tip, with an interactive component such as a flap to lift with the reason behind the action. From turning off the lights when leaving a room to helping to sort the recycling, all the tips are actions young readers can take to make a difference. I will be using this book with my kindergarten and first grade classes.
A Cool Drink of Water by Barbara Kerley, published by National Geographic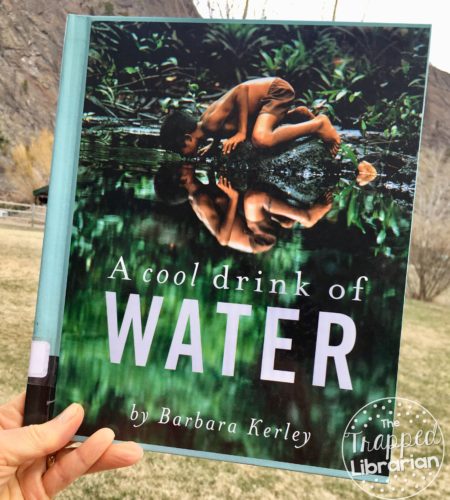 The simple text and captivating illustrations invite us to consider one of the Earth's most valuable natural resources. Depicting people and places all over the world, the book compels us to ponder what some people do to get that drink of water. How wonderful it is to identify with the emotions displayed on the faces throughout the book. We've all known the satisfaction of finally taking a drink on a hot day, and now we can relate to someone across the globe who is feeling that same way! A two page spread in the back identifies each place shown, and information on water conservation will inspire readers of all ages.
Two More Earth Day Books
Love Your World by Dawn Sirett is another good one for your youngest learners. Photographs show diverse young children as they do their part to help the Earth.
Thank You, Earth by April Pulley Sayre is a beautiful "love letter to our planet." Enchanting photographs and limited text draw the reader in to examine details and to join in gratitude for our amazing planet!
Earth Day Bulletin Board
If you really want to get your classroom or school community excited about Earth Day, then this Interactive bulletin board will inspire your students and staff to take action! Take a look at this low prep bulletin board and activity kit!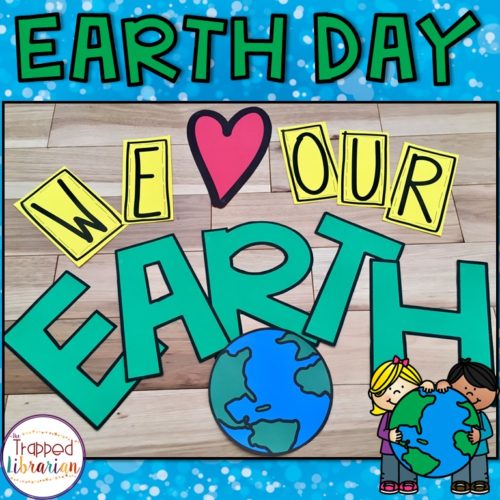 Take a Closer Look!
Do you have some favorite Earth Day books? Please share them in the comments!!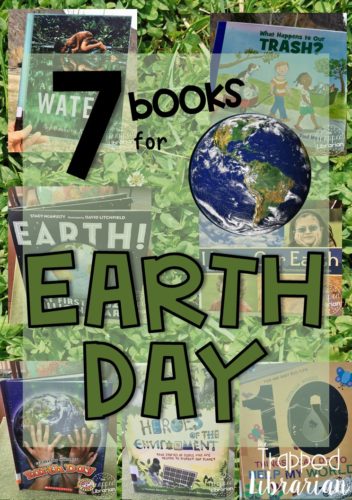 Be the light!