Last Updated on July 19, 2023 by Laura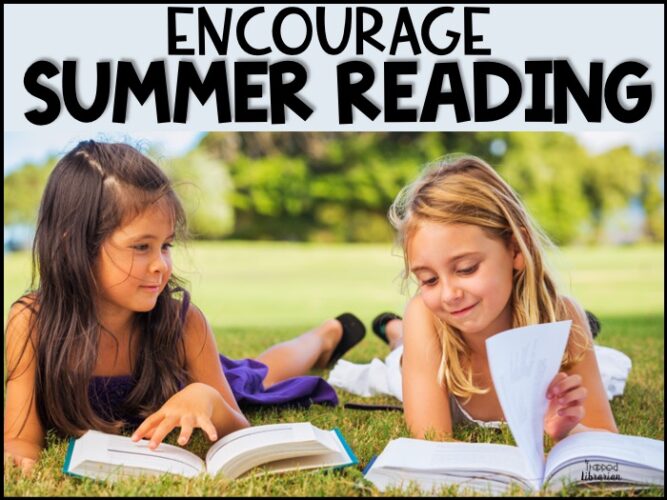 Does your library have a summer reading program? I know it can be hard to staff a summer library program – we often need to rely on volunteers (who are also busy in the summertime!). However, we know that encouraging reading in the summer can really help maintain reading skills and prevent the "summer slide."
Each May we start looking ahead to our summer break – it's exciting for so many students and teachers! But each year there is a concern that the extended break from school routines will bring on the "summer slide." That's why it's more important now than ever that we promote summer reading in our elementary libraries before school gets out for the break.
Benefits of Summer Reading
Summer reading provides an opportunity for students to explore new subjects and learn new vocabulary. Reading in the summer can extend your school's reading culture and foster a genuine love of reading. When students find books that interest them and they enjoy reading, they're more likely to continue reading throughout their lives. And, of course, this is what we want for our young students!
As elementary school librarians, we have the opportunity to encourage and promote summer reading with our students. Here are three tips that your elementary students will love!
1. Allow Summer Book Checkout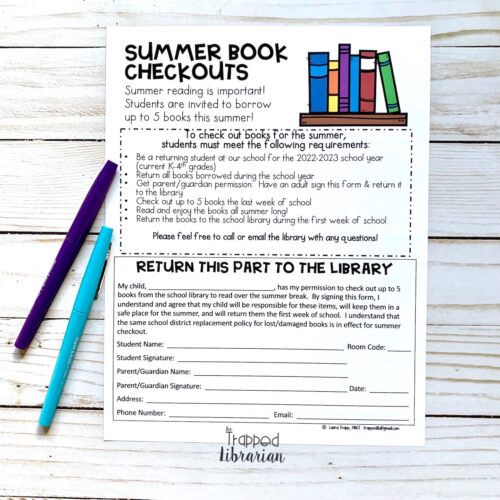 I know it feels good to get all (most!) of our library's books turned in and back on the shelves at the end of the year. But think about it – do we really want our books to sit on the shelves over the summer gathering dust? How about letting your students check out some books over the summer? I created a permission slip and invited students to come in during the last week of school to choose 5 books to bring home for the summer. Just ask them to be sure to return their books when school starts!
2. Host a Summer Reading Challenge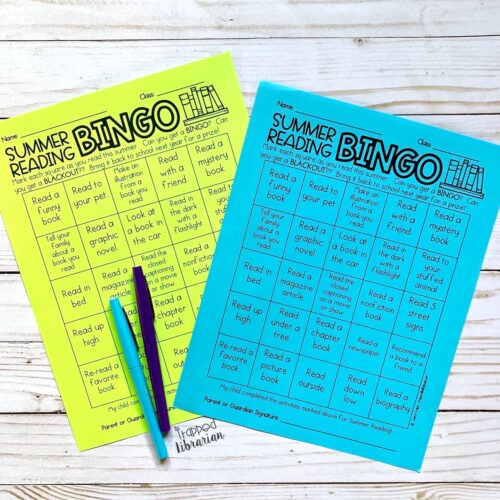 One way to motivate students to read during the break is to create a reading challenge. Set a goal for books or minutes read during the summer and send home a recording sheet. A simple list will do. Offer an incentive in the fall for everyone who meets the goal. Summer Reading Bingo is a fun reading challenge! You can provide incentives such as bookmarks, stickers, or even a small prize for those who complete the challenge.
3. Partner with Your Local Library
Does your public library have a summer reading program? See if the children's librarian will visit your classes to promote the events and challenges they offer. This can provide students with information about library programs and events that are happening over the summer and keep them connected to a library during summer break.
The Joy of Reading!
Reading, of course, is an essential part of a child's academic and personal development. As educators and librarians, it's important that we encourage and facilitate summer reading with our K-5 students. We want to give our students every opportunity to discover the joys of reading – this can stay with them throughout their lifetimes!
Help for Promoting Summer Reading
Get fun summer bookmarks, an activity kit, and a bulletin board kit. Everything you need to encourage your students to read during the summer break! Take a look at the preview and make it easy on yourself! Grab it today!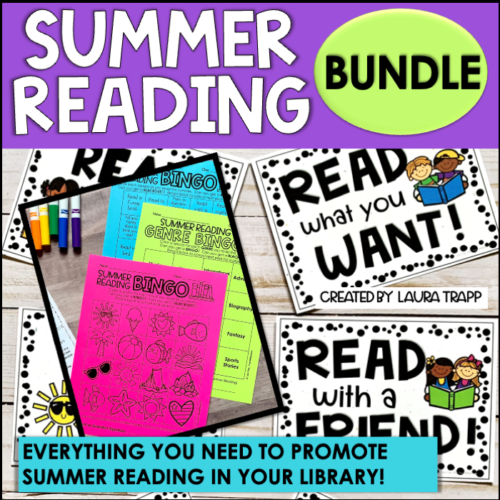 By encouraging your students to read in the summer, you'll help them avoid the summer slide and keep a positive connection to your school library!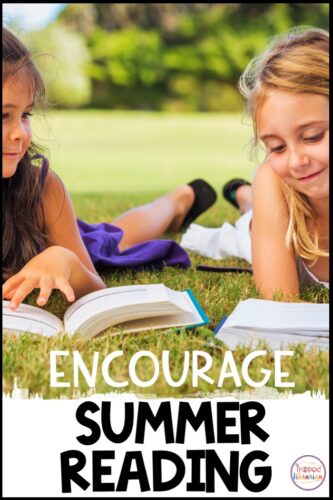 Have fun and
Be the light!