Last Updated on November 15, 2022 by Laura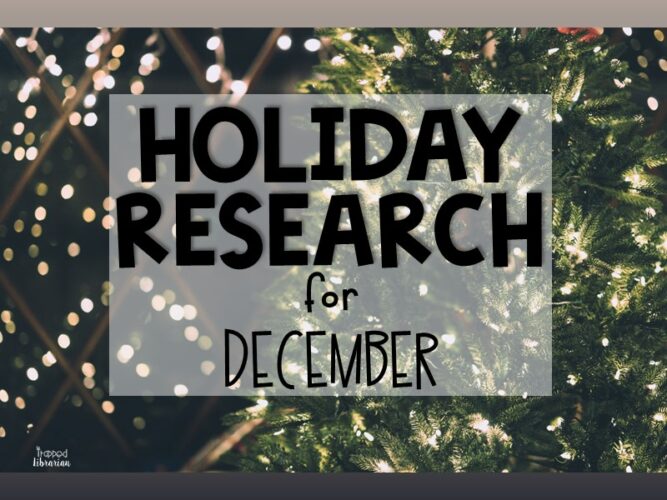 December is not the time for a full-blown research project. But if you want to teach or review research skills with your students, a mini-unit for holiday research is just what you need. Students will still get practice on important research skills. But if a lesson is missed, it isn't a problem (unlike when you're doing those long, multi-week research projects).
Stay Flexible in December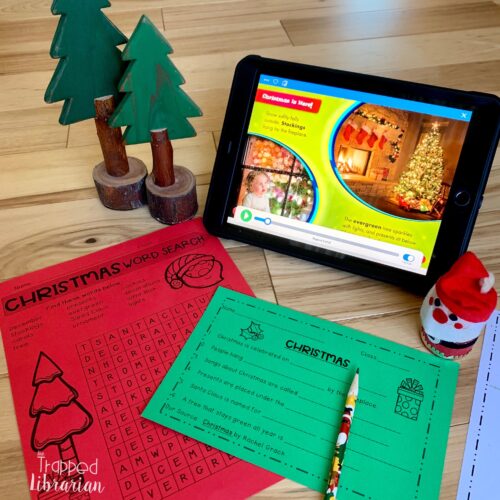 In my school, December brings unexpected schedule changes due to holiday program rehearsals, assemblies and parties.  It can be difficult to make sure meaningful learning is occurring in you library in December! I used to feel like Ebenezer Scrooge with my "Ba-Humbug" attitude from the frustrations of missed classes and missing students.  In order to stay flexible and keep in the holiday spirit, I've developed some mini holiday research projects that can build on prior learning each year. 
Simple and Fun Holiday Research
Besides getting the research practice, students just might learn about a holiday and customs they aren't familiar with. Those who are present for class get a chance to practice some technology skills as well, with an easy to use free online tool that yields big results (wordart.com). I stay flexible, kids learn when they can, and no big important units are being interrupted in December. This is a win-win for all of us! These fun and easy projects are just what you need during the hectic holiday season.
Lesson 1: Take Simple Notes!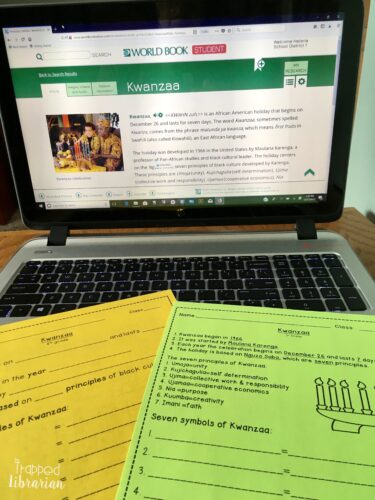 I created simple note taking pages for my students to research the holidays of Christmas, Hanukkah, and Kwanzaa. We read through the note taking page first so we know what information we need. Then we use one print or online source for our research. Normally we always want more than one source, but since this is a MINI research project we usually use just one. Epic has several good informational texts for each of these holidays, so no worries if all of your holiday books are checked out! Keeping it short means that we can complete our notes in one 30-45 minute class period. If you have extra time, you can always look at a second source!
Lesson 2: Review and Create!
It's time to review our notes by reading the completed sentences together. Discuss any connections students have made between the holiday they are learning about and holidays they celebrate with their families. A word cloud is a fun and easy way to create a project to show learning. I like to use Word Art (wordart.com) to create a fun shape (they have lots of Christmas choices) with the holiday words we've been using.
Word Art is a free web tool for creating word clouds. Once at the website, click Create and type the words you want to use in the boxes on the left. You can choose your shape (Click on CHRISTMAS for some fun shapes!), font, layout, and style (including colors). Once you're ready, click the Visualize button. You can still make changes from here! When you're ready, choose Print! You can also download your Word Cloud as a standard png or jpg! Some features are explained more in depth at the FAQ link on the first page of the website.
Display the Holiday Research for Others to Learn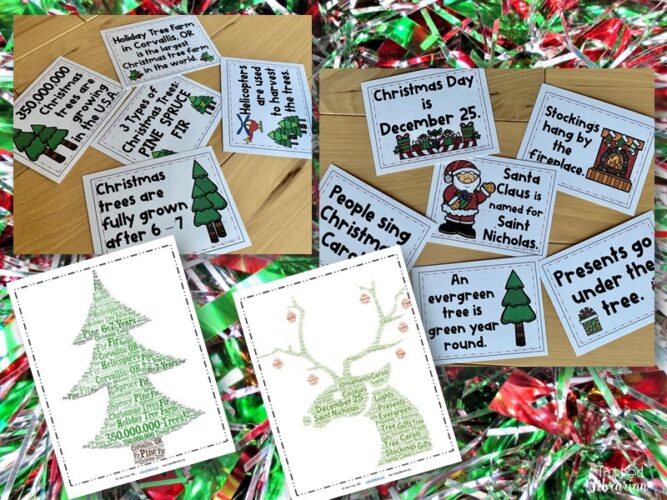 I like to display the word clouds for others in the school to see – we can learn from one another! I created some posters with the basic concepts we learned during our holiday research. The posters and the word art projects make an attractive bulletin board or hallway display.
Holiday Research in Your Library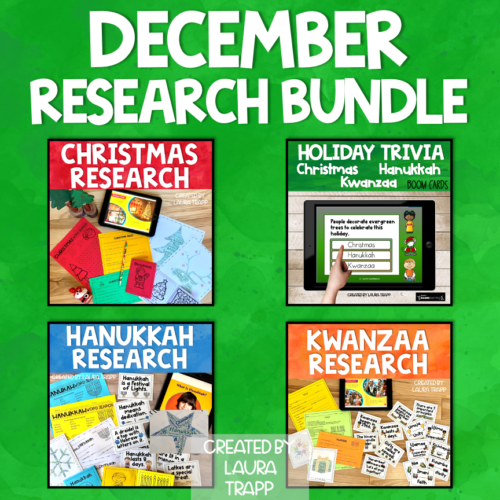 This December Research Bundle has everything you need to scaffold a little bit of holiday research learning throughout your elementary grade levels! Students will build on skills learned each year – that's the kind of learning you want in your library! All you have to do is add the sources (I've suggested easy to find resources for each holiday!). Grab it today and your students will be learning tomorrow!
No more "Ba-Humbug" for us!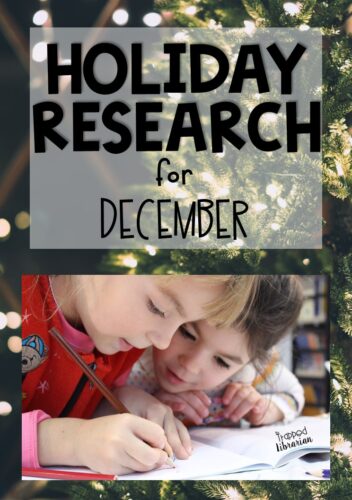 Be the light!