Last Updated on September 12, 2020 by Laura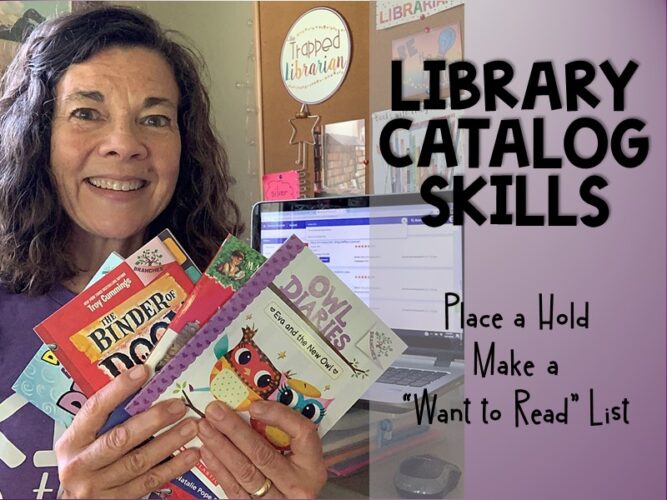 Every year I start out my library lessons with a review and some instruction on how my students can manage their library accounts. With all of the changes this year is bringing to our circulation routines, library catalog instruction is more important now than ever. Because of health and safety concerns from the Covid19 pandemic, some schools are not allowing students to browse for books, and some have curbside pickup or classroom delivery programs.
If your students know how to place holds in your library catalog system, they can have a chance to choose their own reading material even under unusual circumstances. And while you're at it, help them learn how to create a "Want to Read" list, so they're never out of ideas. Not only will these library catalog skills help them now, they are transferable to their middle school, high school and public libraries, and academic libraries as well.
You may want to create a video tutorial for students and families to refer to when they want to request library materials. I created one that includes the following steps, which may be useful to you if your school uses Destiny.
Placing a Hold in the Library Catalog
Click "Log In" in the top right corner.
Enter your username and password and click "Submit."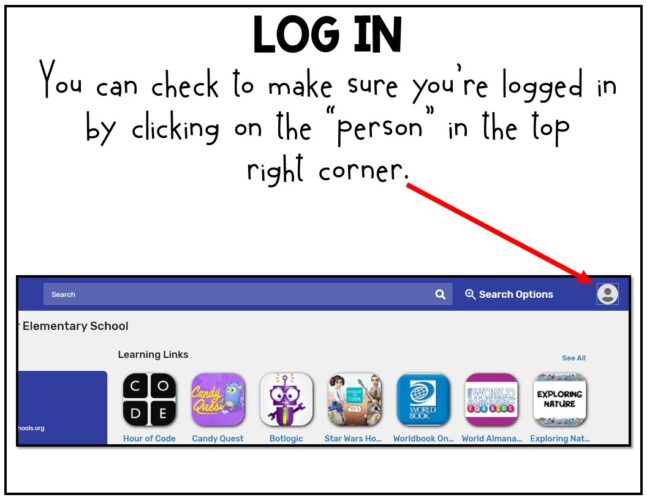 3. Check to make sure you're logged in by clicking the "person" in the top right corner.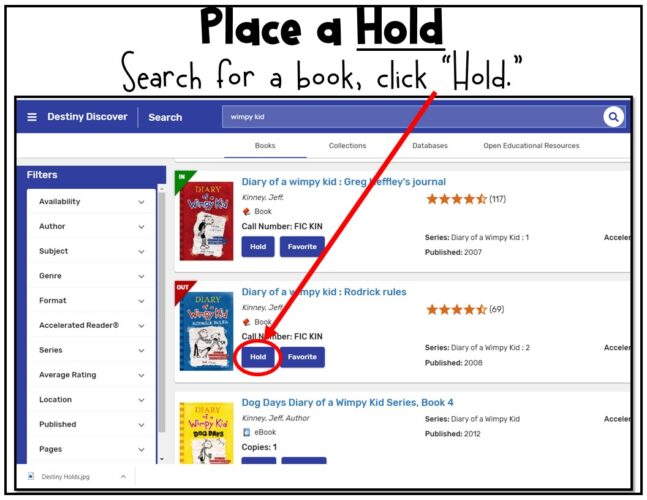 4. Search for a book, click "Hold."
Make a "Want to Read" List
You can make a "Want to Read" list by adding books to your "Favorites." Follow the same steps as above, but click "Favorite" instead of "Hold."
Check Your Library Catalog Information
Part of your library catalog instruction should include showing students how to monitor their own accounts. Click on the "Hamburger Menu" (the three lines in the top left corner) and you have many options.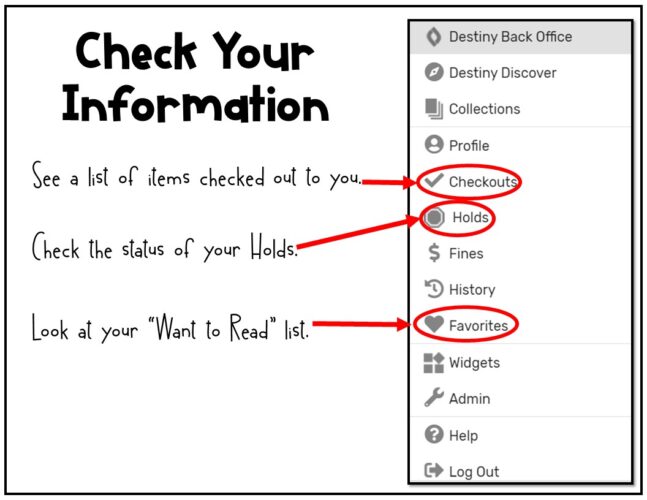 You can see a list of items checked out to you by choosing "Checkouts." Click "Holds" to check on the status of the items you've requested. Look at your "Want to Read" list at "Favorites."
Library Catalog Settings
You may need to change the settings for holds in your school library systems. In Destiny Discover, you can do that in the Back Office. Choose Admin and Access Levels. Under the Patrons tab you'll find "Self Empowered Patron Access." Some school librarians want students to be able to place holds on available copies now, when that was probably not how you operated before the pandemic.
Let me help!
Holds and "Want to Read" lists are always essential components of library catalog skills, but especially this year . That's why I've included a link to my video tutorial as well as a one page reference sheet for students in all of the library catalog practice science units. I've also added them to the Fall Library Catalog Practice unit as well (and will be adding to the other seasons as I update them). Take a look at this preview video to see if this unit is right for you.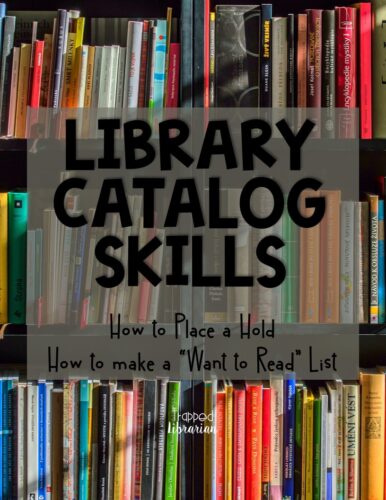 Be the light!