Last Updated on October 14, 2020 by Laura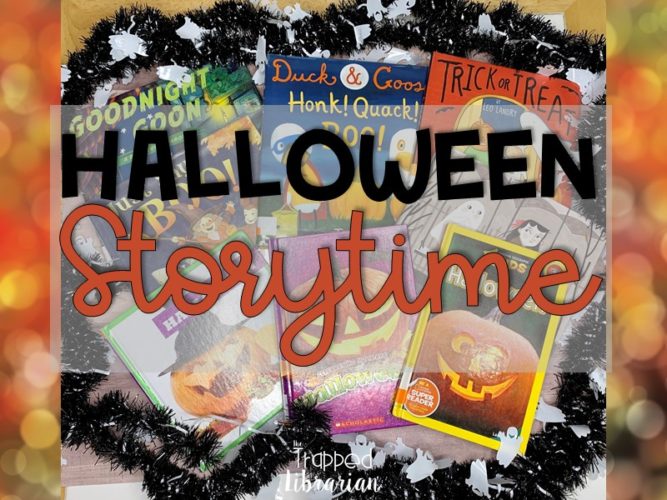 October brings an interest in spooky stories, mysterious tales, and disguises. A Halloween Storytime is a fun way to bring all of this together for our young learners. We had a great time in Kindergarten, first grade, and second grade singing songs and listening to fun read alouds. With a little bit of creativity and planning, you can have an engaging Halloween Storytime in your own school library!
This post contains Amazon affiliate links for your convenience. If you click on a link and make a purchase, I may receive a small stipend at no cost to you.
I created a fun Halloween Storytime for my three youngest grades without an elaborate room transformation. I simply set the stage by wearing a glittery witch hat or a bouncy bat headband (I alternated between the two because each would give me a different kind of headache!). Students knew as soon as they walked in and looked at me that something special was up!
(You can see all of my favorite Halloween books here: 14 Halloween Picture Books.)
Kindergarten Pumpkin Storytime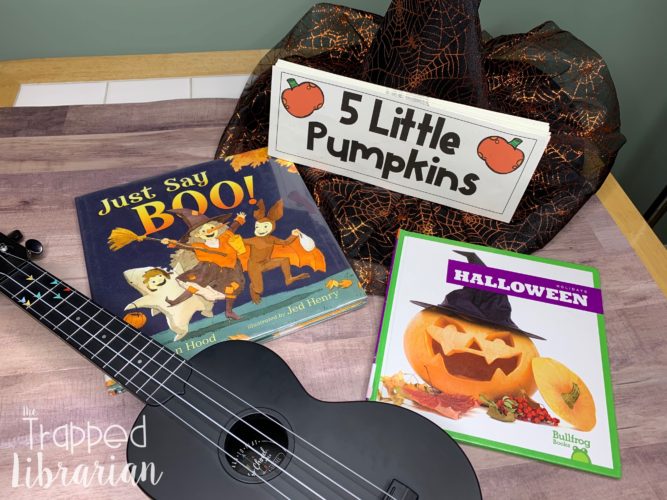 We start all of our Kindergarten and first grade classes with a storytime chant and song that I learned from Emily Arrow. Our nonfiction story was Halloween by Rebecca Pettiford. For the fiction read aloud, we read Just Say Boo! by Susan Hood. The kids love calling out "Boo!" on every other page. After we read the books, we sang Five Little Pumpkins. I made my own version of the song that included different emotions. We had a great time showing the emotions on our face and making our voices match the feeling words! After we checked out our library books, we tried a fun Monster Scavenger Hunt.
First Grade Halloween Storytime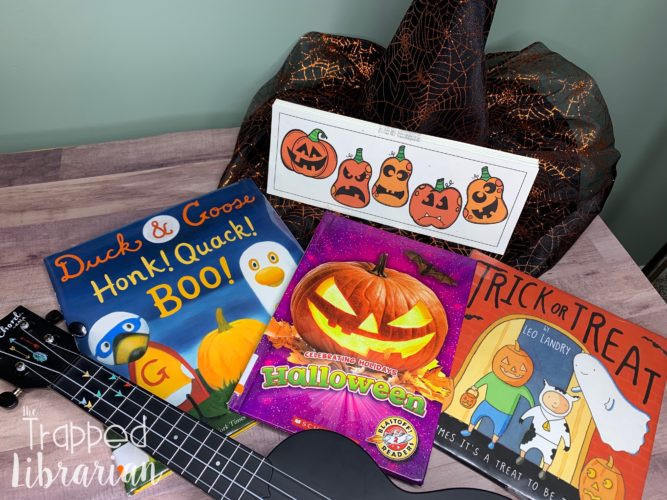 Beginning our first grade storytime classes with a chant and song helps set the stage for expectations during read aloud time. Halloween by Rachel Grack was our nonfiction selection. I pointed out text features throughout the book and we stopped to discuss connections we had, as well as new learning. I tried two different picture books for the fiction selection: Duck and Goose: Honk! Quack! Boo! by Tad Hills and Trick or Treat by Leo Landry. Both of these stories have fun twists involving costumes and misunderstandings – the kids love making predictions and laughing at the possibilities!
First graders also learned the Five Little Pumpkins song. We had so much fun standing in a circle and singing together! I made cards with some cues and had helpers hold them up when we sang the number, action, and emotion. Since each person was able to see everyone else in the circle, the interaction helped the first graders to get into the song even more! The Monster Scavenger Hunt was a big hit with first graders – they loved moving around the library as they searched and they eagerly helped one another find the tricky ones.
Second Grade Ghostly Storytime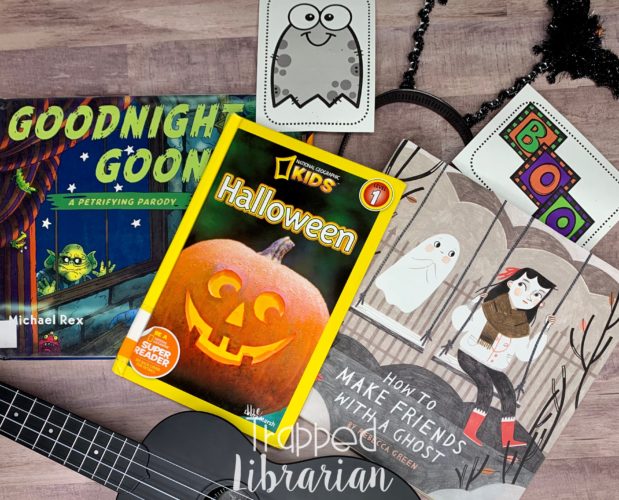 I don't always include second grade classes in our musical storytime sessions, and sometimes they feel left out. But this time I had a couple of wonderful stories that I thought were perfect for this age level. Our nonfiction book was Halloween by Laura Marsh. Again, I used two different picture books in second grade. Goodnight Goon by Michael Rex is a fun parody. Since most kids are familiar with Goodnight Moon, it's a fun read aloud. After listening to the books, students paired up to try an ABC Taxonomy of Halloween. The challenge was to think of a Halloween word for each letter of the alphabet. This is a fun way to develop creativity and collaboration.
Some classes listened to a new book, How to Make Friends with a Ghost by Rebecca Greene. Emily Arrow has a brand new song to go with the book. I created some cards with ghosts and "Boo!" to use as we sang along with the YouTube video. The second grade students embraced the Monster Scavenger Hunt with enthusiasm. To help them think on a higher level, I encouraged them to give clues to friends when helping them find a tricky monster (rather than showing them the monster).
A Fun and Engaging Halloween Storytime
Halloween Storytime is a fun event for your school library. Your Kindergarten, first grade, and second grade students will be engaged as they listen, sing, laugh, collaborate, and search for monsters. If you would like some help setting up your event, take a look at this Halloween Storytime Kit.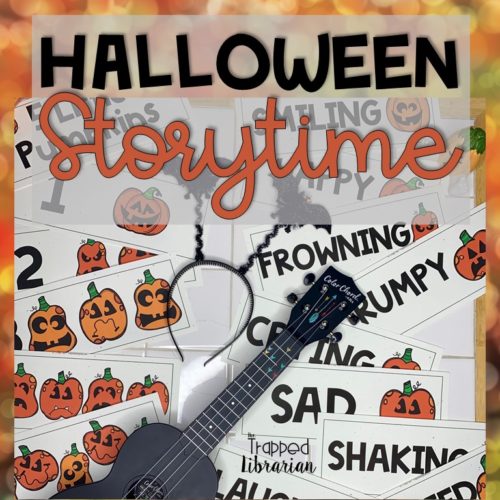 Let us know how you make Halloween special in your school library!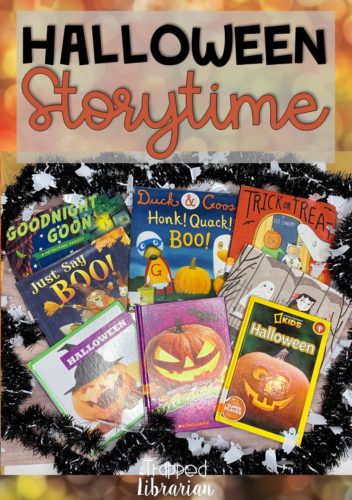 Be the light!