Last Updated on December 6, 2017 by Laura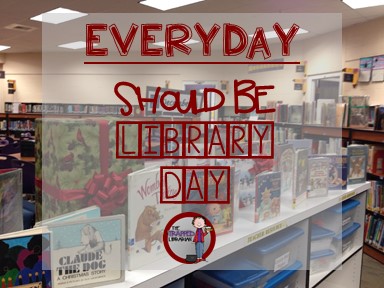 I was just getting ready to print my library day bookmarks for the upcoming school year when a conversation (started by the wise Jen Jones of Hello Literacy and continued by the inspiring Jessica Martin of The Whimsical Teacher) erupted on Instagram about the fact that some schools are so strict with "library days" that they won't allow students to check out books or visit the library on any other day!  Of course this caught my attention!  Comments such as "Our library is the testing room.  No librarian, no checking out, nada!  Just a room full of books no one uses." and "Our old librarian required complete silence and the kids weren't allowed to sit on any of the furniture or anything." just broke my heart.  And don't get me started on the dozens of comments regarding students being required to check out books at certain levels!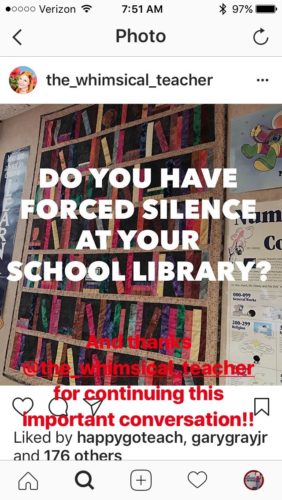 Most teacher librarians in my world fully support and implement (to the best of their ability) 24/7 access to library resources for all of their students.  At schools in my district, each classroom usually has 2 scheduled library days each week (1 for a lesson, which is classroom teacher prep time, and 1 for checking out books). All students are welcome to come to the library any time, in addition to their regularly scheduled class time, to check out more books, use resources, or get help with research.  But from the comments on Instagram, I gathered that many of these teachers are dealing with libraries staffed by volunteers or paraprofessionals rather than certified teacher librarians (who have the training and background beliefs to fully support AASL's stance on flexible access).  According to AASL, "Students and teachers must be able to come to the library throughout the day to use information sources, read for pleasure, and collaborate with other students and teachers."  Not only do certified teacher librarians ensure that students and teachers have ready access to resources and information, but they partner with classroom teachers to offer learning experiences that are engaging and integrated into classroom and real world learning.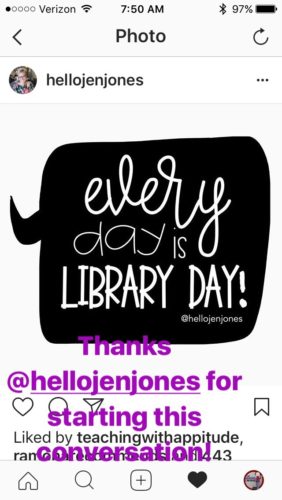 For those of you who are interested in how to advocate for a strong library program in your school, a terrific resource is Keith Curry Lance's School Library Impact Studies in which he found "inferior gains or losses on reading scores were the prevailing fate of states in which schools cut librarian positions."  Whether you want to apply for a grant or convince your school board or administration of the importance of a qualified teacher librarian in charge of your school's library program, you should be able to find some great support in his research findings.
Let's make our libraries the center of our schools and support a strong reading culture!
For more information, please click on the resources below.  Then let me know what you think!
AASL Position Statement on Flexible Scheduling
Keith Curry Lance:  School Library Impact Studies
And if you would like to remind your students and families of their scheduled library day, take a look at my new and improved Library Day Bookmarks.  You can print these bookmarks on cardstock and give them to your students at the beginning of the year, semester, or quarter to remind them (and their families) which day of the week is Library Day. Color, black and white, and Spanish language versions of the bookmarks are included. You have the option to print out a whole week on one page, or print each day on its own. I've even included an editable PowerPoint file to customize with your library information and print on the reverse side of the bookmarks.