Last Updated on June 29, 2015 by Laura
Thanks to some colleagues who are lifetime learners, I got a great deal on a membership to Simple K12 and it has been a wonderful resource for me to use for professional growth. I love the concept: "PD in your PJs!" Just the kind of class I always wanted to take in college!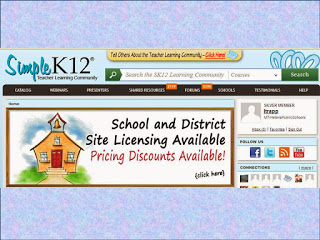 Recently I viewed the on-demand webinar: Stop Repeating Yourself: Create Easy Student Instructional Guides presented by Kim Munoz.
I've been keeping my eyes peeled for an easy way to create "how-to" videos or slideshows for students and teachers. After watching this 30 minute webinar, I think I've found a starting point! I created the following
Snapguide
to show my teachers how to change the filter on their projectors:
Check out How to Clean the Filter on You Epson Projector by Laura Trapp on Snapguide.
Creating this guide was easy and only took about 15 minutes! Although the guide must be created on an
iPad
or
iPhone
, it can be viewed from any device and you can embed it, like I did above, or get a link to share with others. I think
Snapguide
has lots of potential for creating "how to" instructions for students, teachers and parents. And it would be super easy for students to create a guide to show their learning or teach others about a concept! For more about
Snapguide
, visit their website at
snapguide.com
. You can download the app for free in the iTunes App Store.
And, I highly recommend that you check out
SimpleK12
– I guarantee you'll find something you would like to learn there! There are lots of free resources and if you sign up for their email list, they will notify you of upcoming free "Days of Learning" where you can attend live webinars for free.