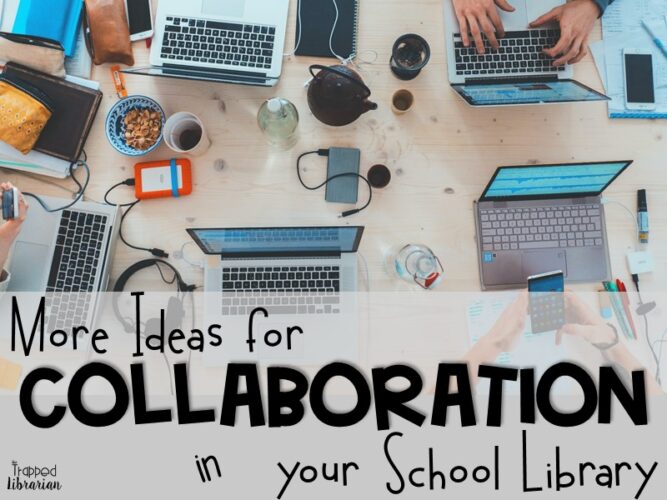 As school librarians, we are constantly striving to form collaborative relationships with classroom teachers and content area teachers. We know that school library collaboration strengthens and deepens learning for our students. When we work with teachers to support and augment classroom instruction, our students benefit greatly.
In my last post, Students Benefit from Collaboration in the School Library, I shared some ideas for collaborating with teachers in your school. Today I would like to share some resources that may help you with more strategies.
A Teacher's Perspective on Collaborating with School Librarians
When I had the opportunity to speak to all of my school district colleagues as Educator of the Year, I wanted to help them think about school library collaboration. I created bookmarks for everyone and linked up an article from Edutopia that highlights the many ways teachers and school librarians can work together for the benefit of their students. You can read the article here: Collaborating With Your School Librarian. Since this article is written by a teacher, it's a great one to share.
School Librarians as Allies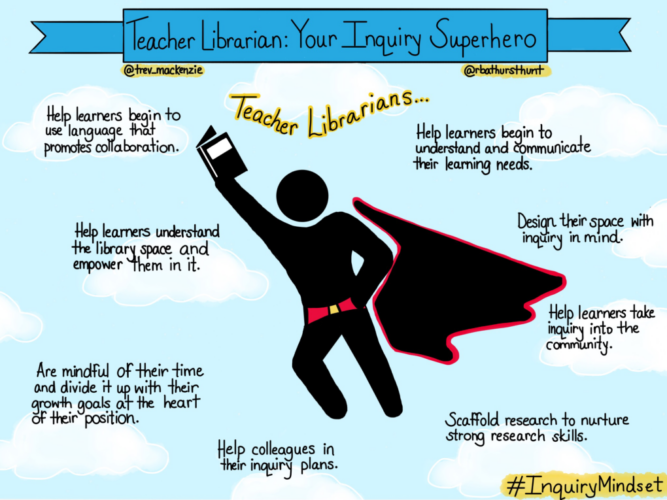 Trevor MacKenzie, an English teacher, wrote this article for MindShift: How Your Teacher Librarian Can Be An Ally When Teaching With Inquiry. He encourages other teachers to think of us as true teaching partners. And he rightly points out that we are the perfect instructional partner for research and inquiry projects. There is an excellent infographic in that article that you may way to share with your colleagues!
Collaboration Encouragement from a School Librarian
Librarian Judy Freeman writes for Scholastic in her article Teacher Librarian Partnerships. She says "Strong teacher-librarian partnerships result in great class projects and happy, enthusiastic learners." Written for teachers, the article gives tips for working with school librarians. Several excellent collaboration ideas are included – these can be inspiring for both teachers and school librarians!
Collaborate with your School Administrator
Encouragement for administrators can be found in 10 Ways Administrators Should Be Collaborating With Their Librarians. This eSchool News article suggests administrators partner with their school librarians as they work toward their Future Ready Schools goals. Creating spaces, developing curriculum, and purchasing digital resources are a few of the tasks Nadir Qaimari mentions in this helpful article. I recommend reading this one and keeping all 10 of the roles in mind as you approach collaboration with your school administrator!
Let the Librarian Do It!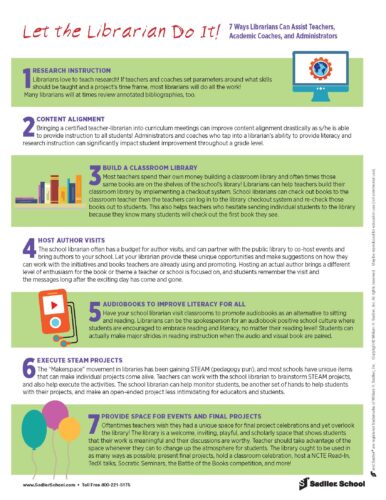 If you need a menu to share with teachers to convince them to collaborate with you, I recommend this one from Sadlier School: Let the Librarian Do It! It covers seven ways we can support student learning by partnering with teachers.
Let's Learn Together!
Join me for my free online training for school librarians, Tuesdays with the Trapped Librarian. I'll be live on The Trapped Librarian Facebook page every Tuesday this summer. Sign up for my email newsletter and I'll send you the schedule. I hope to see you there!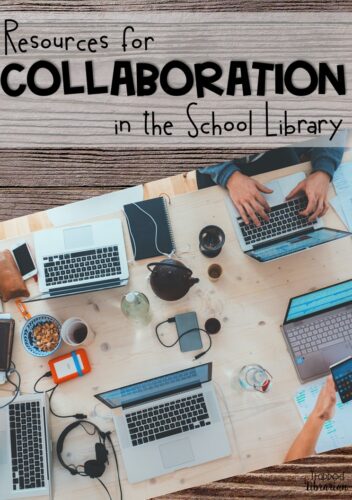 Be the Light!