Last Updated on June 29, 2015 by Laura
I am a pile person.
Maybe you are too.
When I have a piece of paper that I don't have time to/want
to/know how to deal with, I put it in a pile.
Right next to my computer. This
wouldn't be a problem, except after a while if I haven't dealt with the pile,
the clutter makes me crazy and I put it "away."
Then I forget about it. And it usually takes a crisis to make me search out my piles ("When is my administrator
coming in for that observation, again?!").
Last week I was going through a pile that had all kinds of
interesting things in it. A newspaper
article about my son's baseball game (He graduated in 2009!), lists of
recommended books, our teacher evaluation rubric (that observation was Monday –
whew!), and this set of bookmarks highlighting reading strategies: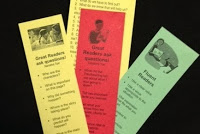 We get these every year as a reminder to help our students set goals for their reading and think about
their learning. And it gave me an idea!
I created some new bookmarks with strategies from the ELA Common Core Standards. This year I'm trying to focus on how I can
best support these standards in the library and I think this is a great place
to start. I plan to give them out to
reinforce lessons that focus on particular standards and hopefully they will
help my students think a little more about strategies they can use when reading
and learning.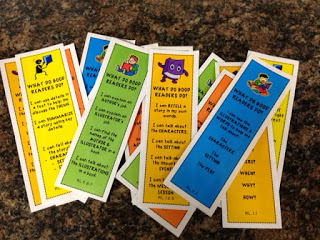 I made a set for each grade level and they are available as
a freebie in my Teachers Pay Teachers store:

I'd love to hear
about how you are supporting the Common Core Standards in your library!