Last Updated on June 29, 2015 by Laura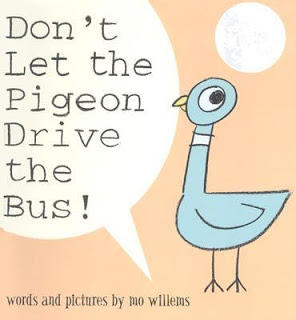 Don't Let the Pigeon Drive the Bus by Mo Willems
This is one of my favorite books to use with first grade students. Since it is a Caldecott Honor book, I use it to begin a lesson about the Caldecott Medal. The best thing about it all (besides the fact that it is a hilarious story), is that the pigeon is very easy to draw. So after we read the story, we learn how to draw the pigeon and everyone is successful! For added fun, this year I found the video at my district library (DVD from Westin Woods, 2009) – the funniest 7 minutes you've seen in awhile, I guarantee! In a bonus track, Mo Willems reads the story to some first graders and then he teaches them how to draw the pigeon!
For more fun:
Mo Willems' Website http://www.mowillems.com/
Don't Let the Pigeon Be the Principal!