Last Updated on June 19, 2021 by Laura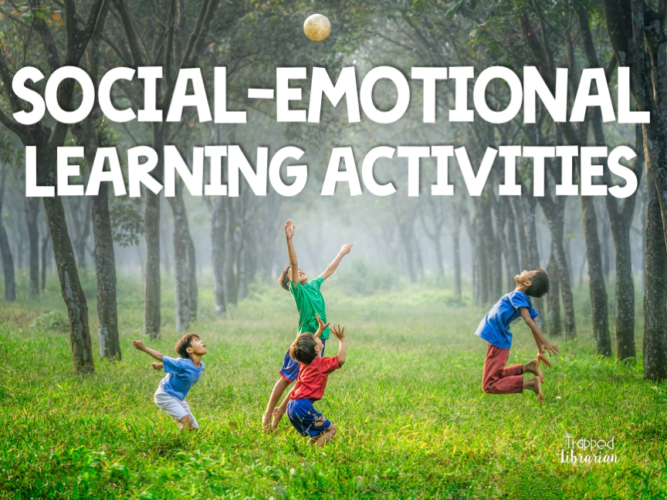 There has been a renewed focus on social and emotional learning, and with good reason. Long term research shows that social-emotional learning has a positive impact on academic achievement, classroom management, overall health, and the prevention of problematic behaviors. After the toll the pandemic has taken on schools, we are wise to place on emphasis on social and emotional learning in the school library.
The Collaborative for Academic, Social and Emotional Learning (CASEL) has identified 5 key areas of social and emotional learning. Even though they overlap, each skill area is distinct with its unique advantages for children as well as adults. You can read more about these concepts in my previous article. Let's consider the types of activities and lessons that can support social and emotional learning in the school library.
Self-Awareness
Self Awareness is the ability to identify emotions and connect thoughts and feelings to behaviors. Some activities to strengthen self awareness include circle exercises, journals, reflections, mindfulness exercises, and conflict mediation. Students benefit from identifying and expressing emotions in a safe, non-judgmental space.
In the school library, this can be accomplished with a "Question of the Day." I like to start my classes with a question that allows each student to express a quick opinion about something (What's your favorite food?), or share a bit of information about themselves (Do you have a pet?). Having students complete interest inventories is another way to build self awareness that will help you develop your library collection and your library lessons.
Self-Management
Self Management is very similar to self-awareness, taking it to the next level. Self-management is the ability to motivate and control oneself, and to regulate emotions. Some activities to help with self-management are breathing exercises, counting to 5, calming exercises, and any tools to help deal with challenges in a less stressful way. Allowing students to move to a "calm down" area to self-regulate when they are struggling is one routine that can really help some students.
Help your students with Self-Management:
Social Awareness
Social Awareness is the ability to embrace diversity and show empathy. Activities like service-learning projects, role playing, and addressing social justice issues support and sharpen social awareness. Any activity that involves listening and reacting to others helps, too. So be sure to build in casual opportunities for sharing. Project-based learning activities that are rooted in real life situations can strengthen social awareness as well.
Other activities to build Social Awareness:
Relationship Skills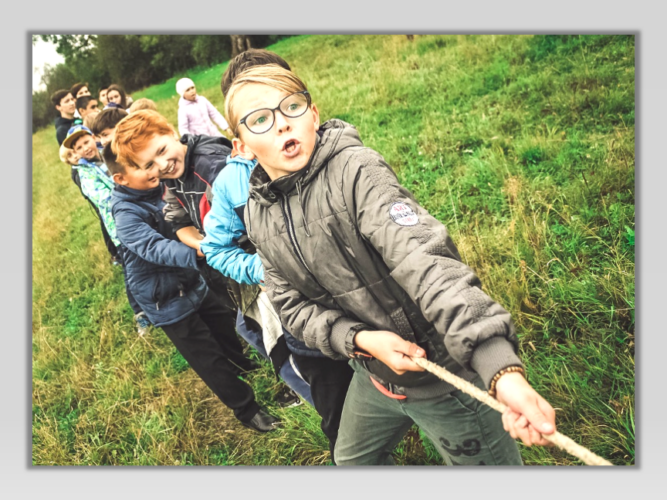 Relationship Skills include the ability to collaborate and cooperate with others, as well as to solve conflicts. School library activities and lessons that include project-based learning, cooperative learning, and other skills needed for life give opportunities for growth in the area of relationship skills. Research projects that involve working with partners or small groups will fit right in with your school library curriculum. I even like to pair up students to work on library catalog search and location skills for a fun library lesson.
Responsible Decision Making
Responsible Decision Making involves the ability to consider the well-being of oneself and others, and to evaluate the consequences of behaviors and actions. Lessons that include shared agreements, one-to-one problem solving, and having students debate an issue can give opportunities to practice responsible decision making.
Carefully choosing books to read aloud can give opportunities for your classes to discuss choices characters make, comparing them to what students think they would do in a similar situation.
Lessons about advertising techniques can help students take a critical look at how media tries to influence their decision making.
You Can Do It!
I know that sometimes it seems like we keep adding more and more to our responsibilities as educators. But I believe it's worth it to include social and emotional learning in the school library. And with a little bit of knowledge and effort, we can support our students in this way while also teaching important library lessons. Give it a try and let me know what you think!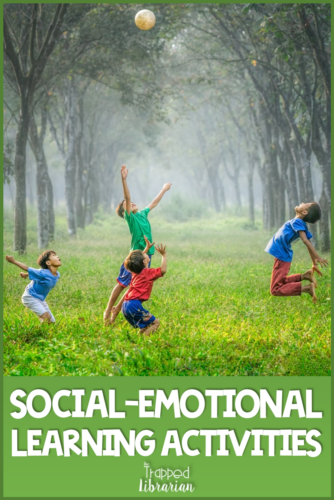 Be the light!