Last Updated on November 24, 2020 by Laura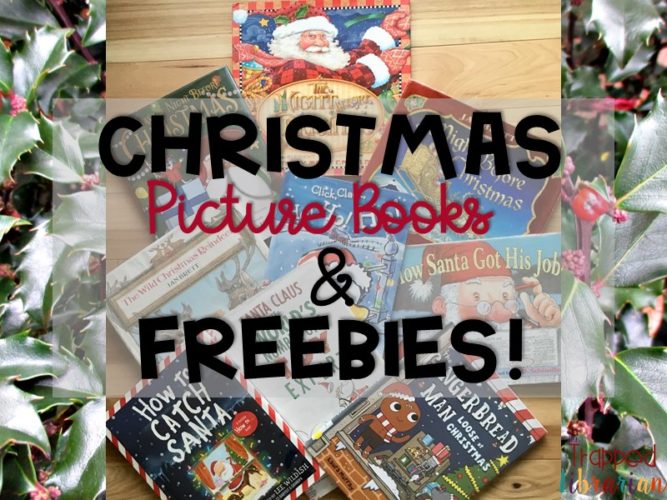 December is hitting my school library with the usual excitement of winter programs, parties, ski days, assemblies, gift making, and the unpredictability of schedules that can change at a moment's notice!  I do love this time of year, especially now that I make sure I have extra Christmas picture books on hand to read aloud with fun lessons and activities!
This post contains some affiliate links for your convenience.  This means that if you click through and make a purchase, I may receive a small commission at no additional cost to you.  Thank you for your support!
I've chosen some of my favorite Christmas picture books and found some great free activities on Teachers Pay Teachers!  I'd like to share some of my favorites so you can use them in your elementary library or classroom during this crazy-fun time of year.  (I've also got a special freebie for you – click to download some fun gift tags to use at school or at home!)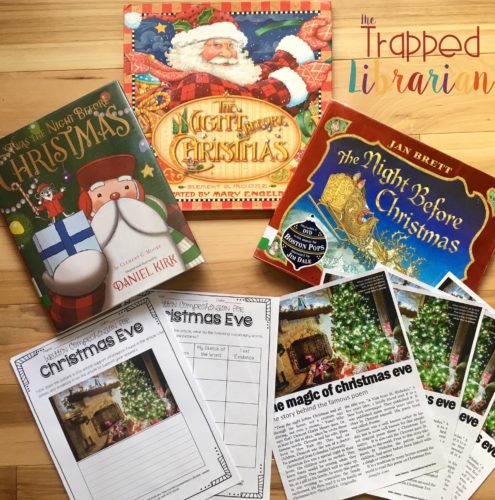 This is one of my favorite titles to share with kids around the holidays and you probably have several versions on hand, like I do!  It's a terrific opportunity for some comparing and contrasting between different versions of the same story.  I love Jan Brett's version because of her detailed illustrations and the "extra story" going on in the borders!  Mary Engelbreit's The Night Before Christmas has such fun, colorful illustrations.  Kids will love looking for tiny, detailed embellishments on every page (especially on the Christmas tree!)! 'Twas the Night Before Christmas, illustrated by Daniel Kirk, is the newest version in my collection.  Shown from the point of view of a mouse (Sam's father, for fans of Library Mouse!), Kirk changed a few of the words to make them more "kid friendly," while keeping the spirit of the traditional poem.
Hello Literacy (Jen Jones) has a fantastic close reading resource called Twas the Night Before Christmas Short Text that includes an article on 4 different reading levels.  Also included are vocabulary and text evidence activities along with teaching points, a guide to close reading, and links to digital media sources for text comparisons.  Pair this with several versions of the book and you've got activities for a couple of days!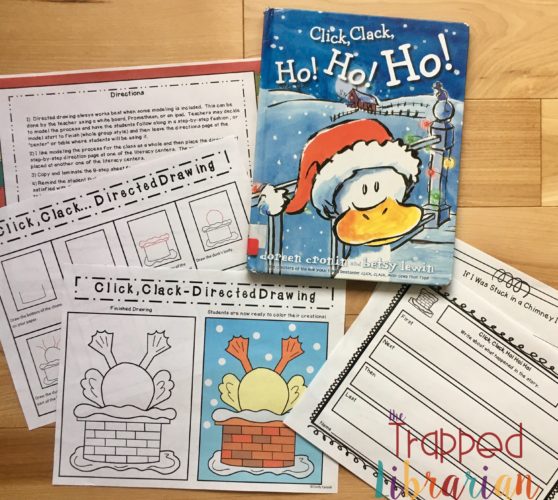 It's Christmas Eve and Farmer Brown is getting ready.  When Duck tries to play Santa, he gets stuck in the chimney!  As all the animals try to help, they each get stuck until the real Santa finally comes to the rescue.  Storytime listeners will love predicting who will go next and laugh at the illustrations of animal legs sticking out of the chimney!  Cindy Calenti's Directed Drawing resource has fun step-by-step directions for drawing duck stuck in the chimney.  Also included are a sequencing activity and a writing activity.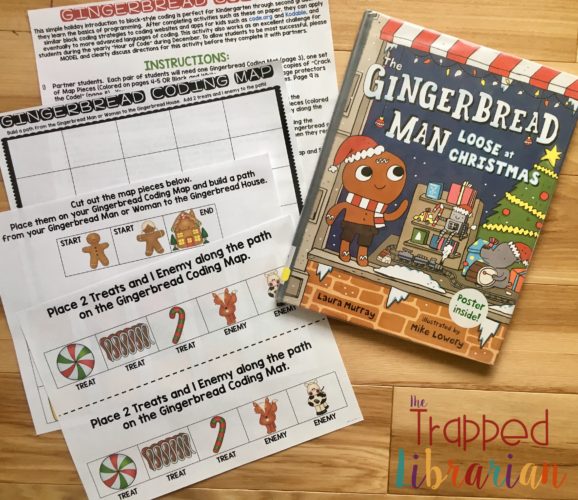 The Gingerbread Man joins his classmates in sharing acts of kindness and he makes a card for the baker that helped his class create him.  This fun rhyming story will be a hit with young readers who have read or listened to others in the series.  It's a great story to use as a springboard for your own holiday acts of kindness activities.  Brooke Brown's Gingerbread Coding is a great way to tie in with the book and help your youngest learners try some coding activities!  I plan to use this for Hour of Code week at the beginning of December! (Click here for an Hour of Code freebie from me!)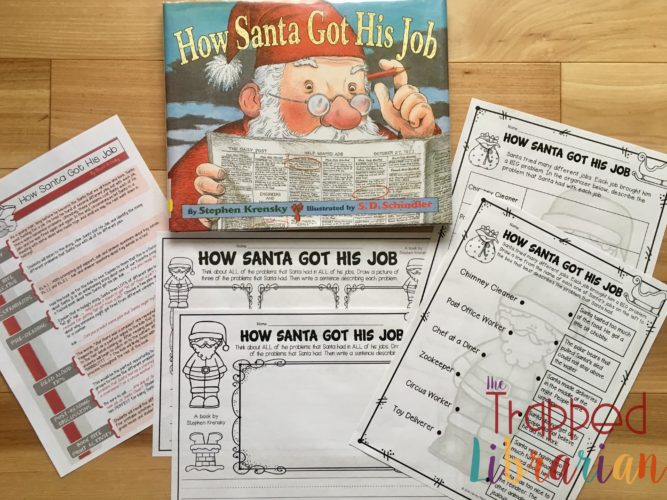 How Santa Got His Job

by Stephen Krensky, illustrated by S.D. Schindler
Have you ever wondered just how Santa got his job?  This fun tale lets us follow him as he tries out different careers.  Readers and storytime listeners will recognize Santa's qualities and characteristics as he tries out being a chimney sweep, mailman, chef, zookeeper, circus performer and finally the toy deliverer that he is today!  They will also notice his physical transformation in the illustrations from a young man into the jolly Santa Claus we are so familiar with.  The Library Patch has a terrific Book Bites resource with great teaching notes, summarizing pages and fun activities to identify the problems Santa had with each job.  This fantastic resource is common core aligned too!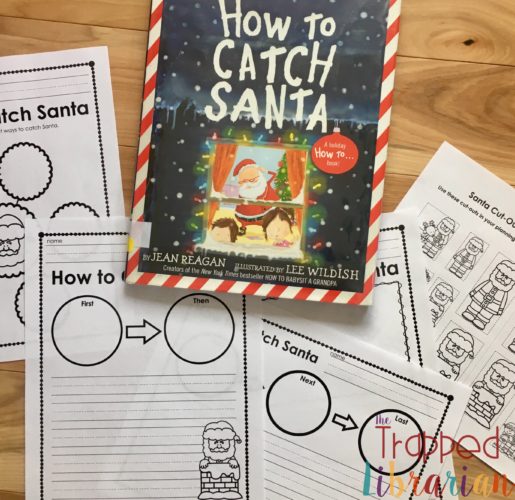 How to Catch Santa

by Jean Reagan, illustrated by Lee Wildish
This absolutely delightful book will be loved by any child who has wished to get a glimpse of Santa Claus on Christmas Eve!  The author and illustrator help us think about questions we'd like to ask Santa as well as things we'd like to tell him, and even to consider some items to give to him, before helping us make a plan to catch him.  A subtle theme of gratitude and thoughtfulness underlies the fun!  Simply Kinder has a fun freebie that includes printables for sequencing, brainstorming, and writing activities.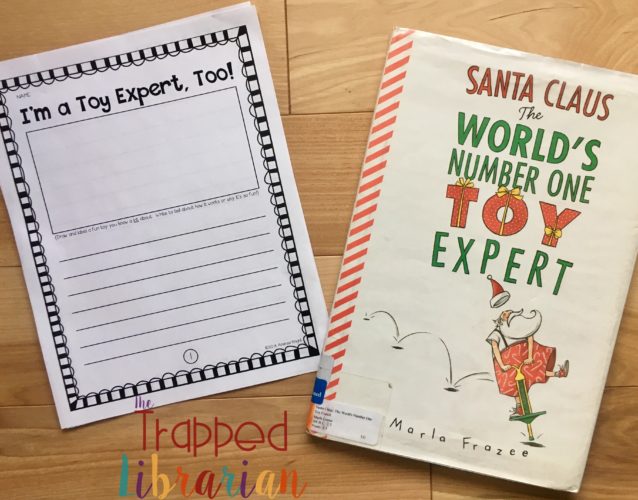 This sweet book explains how Santa gets to know all of the kids well so he can match them with just the right toy at Christmas time.  Readers and listeners will enjoy looking carefully at the pictures to pick out details.  When reading aloud, be sure to give plenty of time to stop and talk about what everyone can notice in the illustrations!  Your students will enjoy Andrea Knight's resource, I'm a Toy Expert! Quick Write as they write about a toy that they know well.  It will be a fun activity for students to share their writing with the class, too!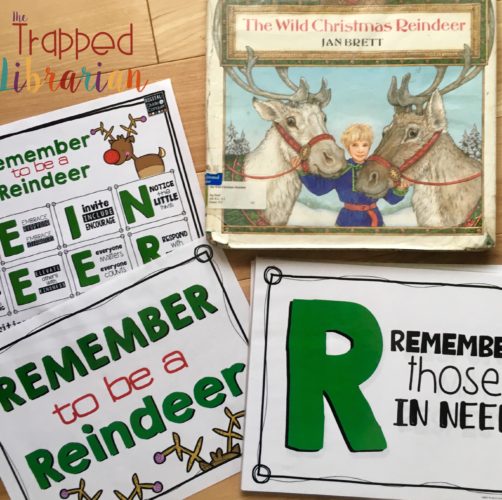 As you can see, this book is a well-loved classic in my library!  When Santa asks Teeka to gather his wild reindeer and get them ready for Christmas Eve, she learns an important lesson about gentleness and kindness.  As we follow along with Teeka and the wild reindeer, we also see the elves getting ready for Christmas in the borders.  As usual, Jan Brett's gorgeous illustrations beckon us to linger on each page!  Remember to be a Reindeer is a fabulous poster set from Digital Divide and Conquer.  It makes a bright, eye-catching, uplifting display for a bulletin board or door.
So, check out one of these Christmas picture books and grab the freebies so you can be ready for any unexpected schedule changes in your school library!
Want more ideas?
Take a look at this fun bundle of December school library activities!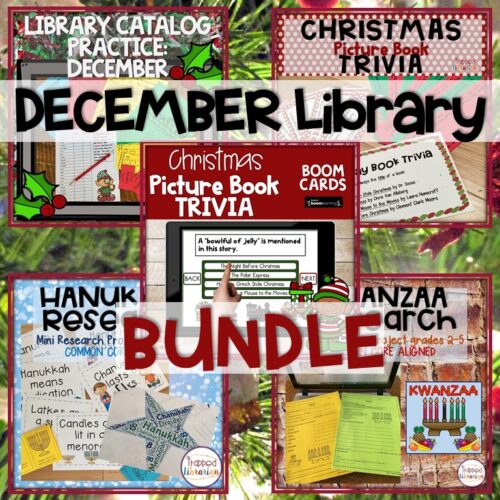 Do you have some favorite picture books for Christmas?  Please share one below!

** You can hop along to learn from other school librarians in last year's Holiday Hop!  Head over to That Library Girl's blog next to read about some great brain breaks for the littlest learners in your school library!
Be the light!