Last Updated on February 26, 2018 by Laura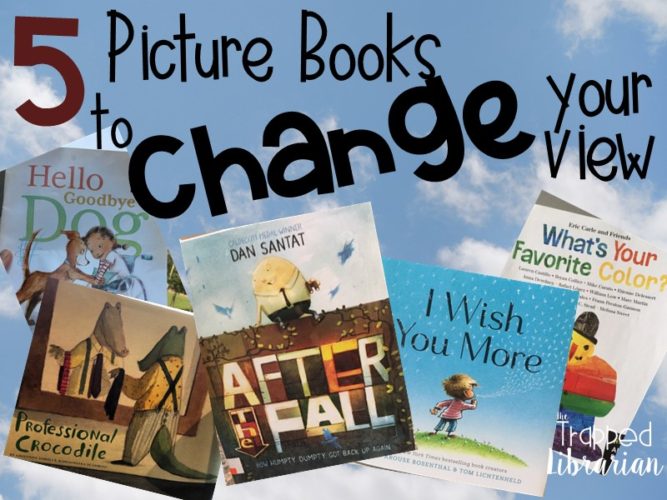 As a school librarian, I am constantly looking for great new books for kids, but this past year I have had extra opportunities to be exposed exciting new titles in children's literature.  In July I became a reviewer for Kid Lit Exchange (you can read more about that fun group and even sign up to be a reviewer yourself here), in October I had the privilege of hearing John Schumacher (Mr. Schu!) speak at the Montana State Reading Conference, and in November I attended the AASL (American Association of School Librarians) conference where I attended several sessions with author/illustrator panels.
This post contains affiliate links.  If you click through and purchase a book, I may get a small commission at no charge to you.  I received copies of the first 3 books from the Kid Lit Exchange network to review and pass along.  All opinions are my own.
I'd like to share with you the best of the books I've read recently…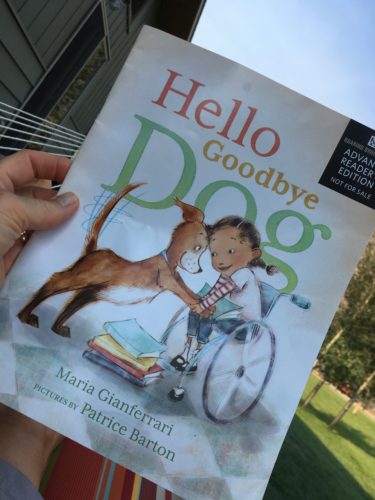 Hello Goodbye Dog

by Maria Gianferrari, illustrated by Patrice Barton
Moose is a friendly dog whose wheelchair bound owner, Zara, is starting school.  Since dogs aren't allowed to go to school, every time Moose shows up to say "hello," he soon (reluctantly) has to say "goodbye."  Finally Zara takes Moose to a dog therapy school and then he's allowed to go to her school to listen to kids read!  A beautifully illustrated, sweet story that kids will love to listen to and participate in saying "hello" and "goodbye" to the lovable dog.  The illustrations show a diverse, happy family and school atmosphere without making a big deal about that.  The author's note contains information on therapy dogs and could spur on an investigation into having one at the reader's school or library.  I bought this for my library and it never stays on the shelf very long!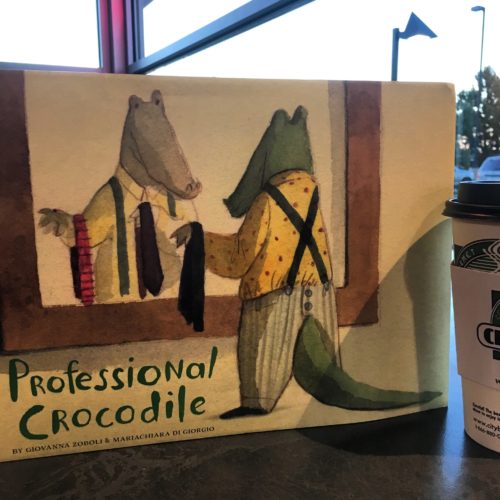 This wordless picture book follows a crocodile as he gets up and goes about his morning routine and his commute to work. Kids will love noticing the fun details in the illustrations – especially the crocodile's bathroom routine & the t-shirts people are wearing on the subway. As I turned each page, I was wondering what the crocodile's profession was – is he a banker, a teacher, a businessman? The building anticipation was PERFECTION when I was surprised to learn his job!!! An absolute delight!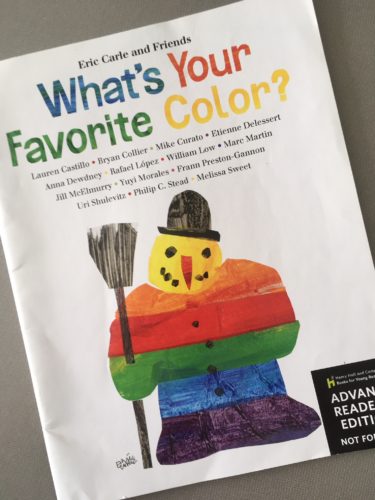 One of the first questions young people use to get conversations going is "What's your favorite color?" It's so fun to find out the answer and to share your answer, and even better if you learn WHY someone loves a color! That is the appeal behind this book and it is an absolute delight! 15 children's book illustrators share their favorite colors, and why they like that color, with a wonderful illustration to accompany it. Each page is diverse in the writing and illustration style, providing a terrific variety in text and pictures. The last two pages have photos of each contributor as a child along with a short blurb about them. This would be a great read aloud in all elementary grades. The youngest students will enjoy looking closely at the pictures and the oldest students could write and illustrate their own page for a class book.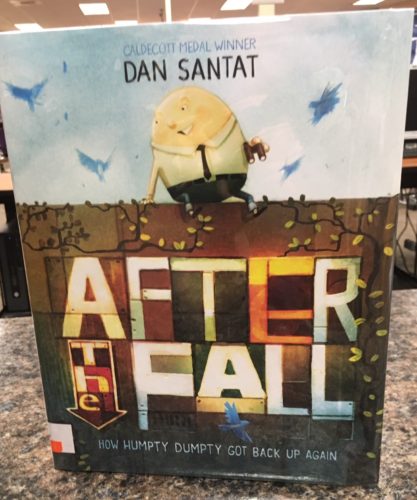 This is truly a picture book for all readers, a clever parable that illustrates how we can overcome our fears when we find a passion in life and reach for the fulfillment it brings us.  Readers follow along with Humpty Dumpty as he shows how he dealt with life after his famous fall and his subsequent fear of heights.  See what he loved to do and how helped him transform himself.  The ending is beautiful and surprising and inspiring.  I wouldn't be surprised if this book wins the Caldecott this year!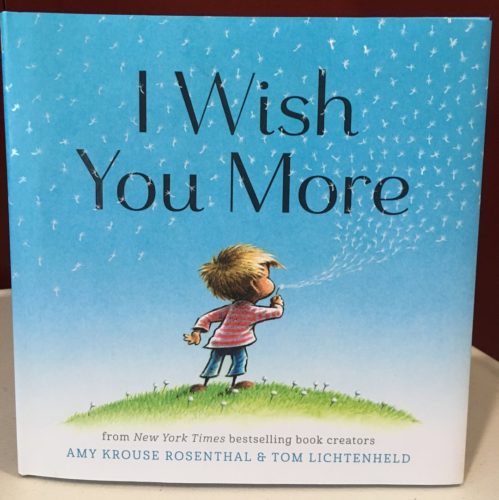 I Wish You More

by Amy Krouse Rosenthal and Tom Lichtenheld
Another picture book for all ages, this sweetly illustrated story full of endless wishes will tug at your heartstrings.  Each wish shows one of life's delights, from sharing a treat with a friend, to finding lots of treasures at the beach – even savoring a good book under the covers!  Readers and listeners will delight in each new wish, and want to take time to soak in each 2 page spread. This is a book best shared with a loved one snuggled close, with repeated readings and some added wishes to share!
How's YOUR View?
If you need to see the world from a more fun, inspiring, positive point of view, one of these books may just be what you need to put a new spin on your outlook!  I know each one of them helped me to see the world in a new and different way!  Sharing these stories with others is a great way to spread some positivity!
Do you have a recommendation for an uplifting book?  Please share it in the comments below!
Thanks for stopping by!