Last Updated on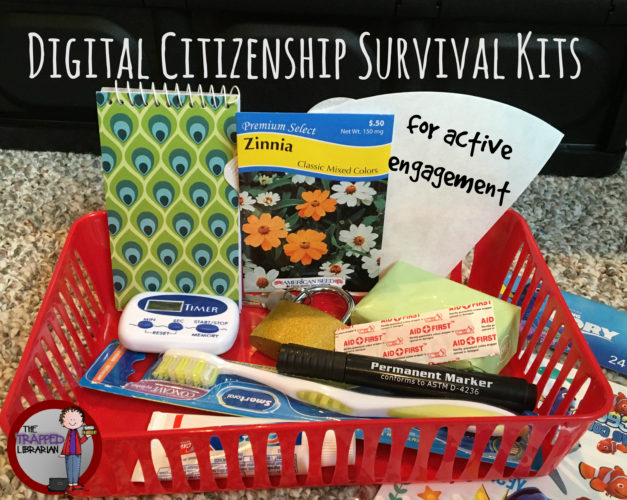 Talking to kids about being safe and respectful online is important, but it's so hard to hold their attention!  I was really excited when a friend of mine came back from last year's NCCE Conference with this great idea:  A Digital Citizenship Survival Kit.  It contains concrete items that students can connect with abstract concepts – a great way to make their learning memorable.  I believe the idea was invented by Craig Badura, and he has two excellent blog posts about his kits here:
http://www.craigbadura.com/2013/02/the-digital-citizenship-survival-kit.html
http://www.craigbadura.com/2013/08/the-new-and-improved-digital.html
In order to use this idea with  my students, I decided to make a kit for each small group.  I went to the Dollar Store and purchased most of the items – 7 of each, so that each group could have a kit.  I created some note taking forms and a simple slide show to use along with the physical items.
Here is how I plan to use it:
Place one copy of the note taking page and a Survival Kit at each table. I will use the first page with corresponding items for 4th grade and the second page with 5th grade.
Show the slideshow introduction.
Discuss the meaning of metaphor "a figure of speech in which a word or phrase is applied to an object or action to which it is not literally applicable"
Hold up the padlock or the band aid and ask for ideas for the significance of the item. Show the slide for the item after discussion.
Give groups time to discuss each item and write their predictions on the note taking page.
Go through the slideshow, pausing for discussion and additional ideas after each item. (I placed ending slides after the 4th grade section as well as the 5th)
Give students time to add an item to the list and discuss those as well. (I imagine I might get some good ideas from the students and can add new items next year!)
Give each student an Exit Ticket and have them fill it out and turn it in before leaving. Discuss if you have time.
I am on sabbatical leave right now, but will be returning later this month.  I plan to use this along with some digital citizenship lessons from Common Sense Media in the Spring.
Click the pictures below to download the slideshow and the note taking pages that I created.  They are pdf documents.  To display the slideshow to your students, go to View – Full Screen.
If you use the Digital Citizenship Survival Kit, I'd love to hear about it.   What are some of your favorite digital citizenship resources?