Last Updated on October 1, 2015 by Laura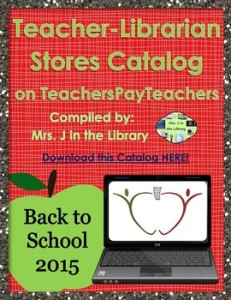 As you are getting ready to head back to your school library this fall, take a look at this terrific resource made just for you!  The Teacher Librarian Stores eBook Catalog showcases several TpT stores that sell materials specifically designed for school library or media center instruction and management.  I am excited to be included in this year's back to school edition!  Mrs. J. in the Library puts this terrific resource together every year and offers it for free in her Teachers Pay Teachers store.  Teacher Librarian sellers are invited to contribute a page or two of products.
I like this resource for  two reasons:
1.  I have found great resources from other teacher librarian sellers on TpT – people I did not know about before finding the catalog!  They have lots of resources that will help me in my library organization and teaching this year.
2.  I get to promote my store to other teacher librarians too!  Hopefully someone who is getting ready to teach about the library catalog or getting organized for back to school will find my resources helpful!  Win-Win!
So, if you are a teacher librarian, head on over to Mrs. J. in the Library's TpT store and grab the free Teacher Librarian Stores eBook Catalog!  It's a resource you can refer to all year long!