Last Updated on June 29, 2015 by Laura
A couple of weeks ago I had seen a tweet from Free Technology for Teachers about embedding an Instagram feed on your blog page. I had been thinking about starting an account for my library, so this gave me the push to get it done!
The article tells how to use SnapWidget to get a code to embed your feed, and can be found at the Free Tech 4 Teachers website, so be sure to read it for more details. It's super easy! You just enter your Instagram username, make some choices regarding formatting and you get a code to use on your blog or website. My Instagram slideshow is displayed in the sidebar to the right. –>
There are lots of possibilities for using Instagram and SnapWidget to share photos from your school library or classroom. Currently I am loading up our "Dewey of the Day" pictures. I highlight a different section each week and project a photo of the week's featured section when the students come in. A short talk about why books on this topic are shelved at that Dewey number helps keep the whole Dewey Decimal System thing a little less boring and a lot more meaningful! And it doesn't take up very much of our class time (I usually talk about it while students are turning on their computers and logging in.). You can't believe what a little promotion like this does for our circulation of these sections! Kids are trying out books on topics they might never have considered before and they know where to find them!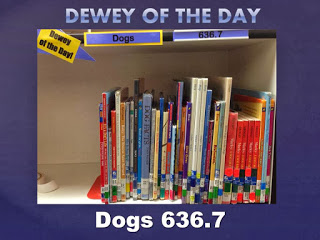 Do you use Instagram for your library or classroom? Have you embedded a SnapWidget on your blog or webpage? I'd love to hear about it!