Last Updated on June 29, 2015 by Laura
I just finished 13 Treasures by Michele Harrison, a book nominated for the Pacific Northwest Young Reader's Choice Award. It was a good fantasy adventure story. Students who like fairies and magic will enjoy this book.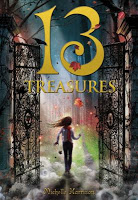 I also read Boy + Bot by Ame Dyckman and The Gentleman Bug by Julian Hector. I am hoping to join the Sharp/Schu book discussion group on October 3 and these are two of their book picks!